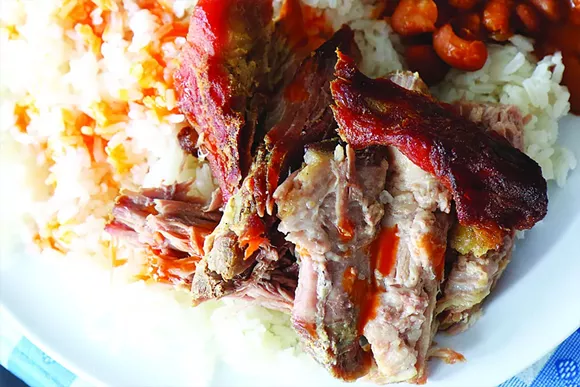 There's something so comforting about Grandma's cooking that we can't resist. It's the love and tender care that goes into it; the recipes have never been written down, but are tattooed in her mind. It's the way that she insists you eat, even if you just had something, and fixes you a plate anyway. You can't say no to Grandma's cooking. To do so would be an inexcusable offense.
This is true whether the grandma is yours or happens to be someone else's. In this case, the grandmother in question is Gladys Cancel, who, with her husband Angel, runs Angel's Place in Southwest Detroit. Their offerings come from their native Manatí in Puerto Rico. The spot has been around since 2002, when Gladys retired and decided to prepare food typical of the island. When it was time for Angel to retire, he joined in the family business. Now in their 14th year, the grandkids have also joined in to help. While they're not the only Puerto Rican restaurant in town, they just may well be the most enduring. It's family love that we think keeps the eatery going.
Angel's Place sits on a section of Michigan Avenue that has not yet felt the effects of the gentrification occurring in Corktown. While it sits between a vacant commercial space and a coin laundromat, it's among a number of other hidden gems that dot this section of town. A few blocks down, there's the Senor Lopez Mexican Restaurant. Farther east on Junction is El Barzon, whose owner is working on transforming a former Coney Island nearby into a pizzeria. Around the corner, across I-94, there's a Venezuelan spot, El Rey de las Arepas.
You'll spot Angel's Place by the Puerto Rican flags and bright red façade. Inside, the space is simply decorated. An inviting mural of a tropical coastline adorns much of one wall, old photos from the island hang near the cash register, and a number of four tops covered in blue-and-white vinyl tablecloths fill the dining area. In the corner near the front door, an old TV set hums in the background.
When you enter, the Cancels' grandson, Johnny, will greet you at your table and offer you a can of Tropi-Cola, a champagne cola typical of Latin America, or a Malta Goya a nonalcoholic malt beverage. We recommend the Tropi-Cola — it's reminiscent of a cream soda.
On the menu, you'll find a number of dishes traditional to PR. There's guizado, braised chicken or beef that's stewed in a rich gravy, served with yellow rice with gandules, pigeon peas. The sweet fried platanos maduros come with a garlicky aioli for dipping. The bistec en salsa (chip steak) comes in a rich red sauce and onions.
At the heart of Puerto Rican cuisine, though, is pork, and at Angel's Place, the real treat is the pernil. It's made with pork shoulder that's roasted for some four to five hours and seasoned with a secret blend of spices. It's the type of recipe that requires a patience that only a grandma can possess. The pernil here is tender and juicy, with a flavorful, crispy skin, and is paired with white rice and savory whole beans. The dish is so popular that it's available by the pound ($9.95).
A lot of the foot traffic into this spot comes from takeout orders. Customers from all over metro Detroit and even Canada swear by the pernil, as well as the on-the-go friendly sides like the pastelillos (similar to an empanada), papas rellenos, crunchy alcapurrias (dense fritters made with green banana dough and bits of pork) — and the pollo frito entrée.
For dessert, we would have liked to try the bread pudding or other pasteles. Alas, chocolate chip cookies were on deck. We'll have to try for that island-style treat next time.
We often opt for the newer places when we choose where to review next, or longtime establishments that have dramatically changed their menus. In this case, we went for a tried-and-true spot that's been a favorite of Detroiters — boriquas and otherwise — for years. We're glad we did. We felt the special touch that only comes out of la abuela's kitchen.
Angel's Place
7824 Michigan Ave., Detroit | Noon-6 p.m. Monday-Saturday |$1.50-$9.99 | Wheelchair accessible