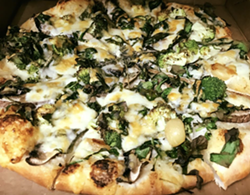 Berkley-based pizzamaker Amici's Pizza & Living Room will open a new location in Midtown's Park Shelton.
Deadline Detroit
reports that the company will take over the spot occupied by the Detroit Pizza Co. The Detroit Pizza Co. closed in August,
reopened under new ownership
last month, but appears to be closing again.
The Detroit restaurant will mostly be a carryout operation. It'll offer 12 different types of gourmet pies along with gluten free and vegan options.
The space is at 15 E. Kirby St. #115 in Detroit.