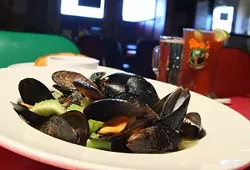 For more than 40 years, the Vivio family has been pouring suds and dishing out thick burgers to an unusually wide variety of neighborhood characters, tailgaters (shuttles provided) and produce shoppers from their venerable building in the heart of Eastern Market. Erected in 1892 to serve as a German community center, it soon became a tavern, placing it among the oldest structures in Detroit to continuously host a watering hole. (Useful information on Vivio's and neighboring buildings and businesses in the Market can be found in Lois Johnson and Margaret Thomas' Detroit's Eastern Market, Wayne State University Press, 2005).
From the wooden doors taken from an Amish horse-drawn bread truck to old liquor bottles, period signage and the expanse of Tiffany-style glass that graces the long bar, Vivio's is crammed full of real and ersatz Americana. Despite the occasional valuable antique, this is a homey — and to some degree homely — place with its bare tables and paper napkins (you will need a lot of them to deal with the ooze from the two-fisted sandwiches) scattered around the brick-walled barroom that seats 80. 
There is an attractive space upstairs, open on weekends and special occasions, which can handle an additional 50 bon vivants, who throng the place, especially for breakfast or brunch.
John and Shirley Vivio were the founders of their eponymous restaurant; son Vince, his mom, and brother-in-law Mijo Alanis now run the operation. They opened a spin-off in Warren three years ago featuring pretty much the same menu with the addition of pizza. No 'za downtown since the kitchen at the end of the bar is far too small for the requisite ovens.
Virtually all of the familiar items on the long menu are less than $10. Among the appetizers are five mussel choices, the most renowned of which float, along with celery chunks, in Bloody Mary mix, vodka and garlic sauce. Bottles of Vivio's secret-recipe mix, which certainly perks up the sweet little mollusks, are available for purchase on-site as well as at specialty stores, along with their house-made mustard. Also from the sea, oysters Rockefeller is a surprisingly elegant starter for such surroundings, while the earthier buffalo and barbecue wings are suitably crunchy and juicy.
The dinner-sized salads run the gamut from Jamaican jerk chicken to a large and crisp taco bowl harboring tangy ground beef tidbits mixed in with green onions, diced tomatoes and cheddar cheese, and accompanied by sour cream and a rather mild salsa. Salads can be combined with baked onion soup, laden with croutons and gooey jack cheese, which, like the oysters, transcend the surroundings. The Caesar salad, however, could do without so many croutons and with a more distinctive dressing.
As for heartier fare, the burgers — cheese, bacon, Santa Fe, Cajun, bleu and the healthier salmon, veggie and buffalo — that come with a mound of slightly undercooked fries, rank among the city's better renditions of that staple. 
Vivio's sandwiches are uniquely divided into "hand" and "knife and fork" categories. Among the hand varieties are a satisfactory grilled Reuben, featuring Grobbel's Eastern Market lean corned beef and adorned with sauerkraut and Swiss cheese, and a traditional triple-decker club. Typical of Vivio's reliance on many of Eastern Market's celebrated food purveyors, meat from Grobbel's (self-proclaimed oldest American corned beefer) appears as well in the Dinty Moore, with smoked turkey and cole slaw. The slaw, which garnishes several other dishes, is an admirable middle-of-the-road blend halfway between sweet and vinegary.
Among the more interesting knife-and-fork creations is the misnamed fish "sandwich," misnamed because the beer-battered fish, which dominates the platter, is far too large to fit into the vestigial kaiser roll that comes with. Some diners might prefer their fish without the melted cheese topping. Philly steak sandwiches, Italian sausage, and a handful of different approaches to chicken also appear in the knife-and-fork section.
The four modestly priced entrées ($8.95-$9.95), pork chops, chopped sirloin, baked tilapia and battered shrimp, share their category with by far the most expensive item on the menu, barbecue ribs at $16.95. But they are a relative bargain not only because of their qualities — falling-off-the-bone tenderness and a savory sauce — but because the mammoth portion can easily be shared by two hearty eaters.
To wash all this down, Vivio's provides 12 beers on tap and 10 bottles, highlighted by Castello, a new-to-this-country, refreshing, light Italian lager ($3). However, serious wine drinkers may be dismayed by their modest choices, underscored by the bottle price of $14 to $20.
Although the libations, as in most bars, contribute to Vivio's perpetual conviviality, the key here is the staff of über-friendly and efficient servers, such as Ronda and Kelly, who seem to be having as good a time as their customers as they dash about the room. 
As comparable historic structures face the wrecking ball, and more of us are compelled to recreate in bland national chains, it is comforting to be able to virtually share experiences at Vivio's with more than a century of Detroiters who have wined and dined in the same building.
Mel Small has been dining for the MT over portions of three decades. Send comments to [email protected]