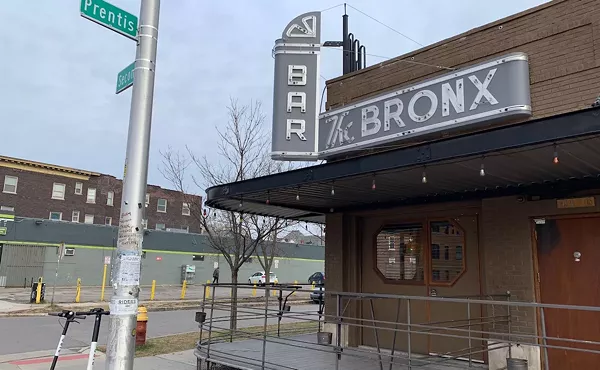 The times are a-changin' — after more than 40 years of serving drinks and profanities, the "Queen of the Bronx Bar" is stepping the fuck down.
At 69-years-old Charleen Dexter will serve her last drink Wednesday following a 42-year-long stint as Cass Corridor's sharp-tongued matriarch, citing health concerns as the reason Dexter has had to reduce her workload and shift frequency, and ultimately, retiring.
Ahead of her final shift, Dexter spoke with
the Free Press
about her love affair with the Bronx and its revolving scenery and cast of characters, but most of all, with "I love talking to the kids," Dexter told Freep "When I'm at home four days a week, I talk to very few people. So I come in here and I bullshit with the kids, you know. I see these kids more than my grandkids."
The woman who allegedly told a young Miley Cyrus off after ordering a "fresh-squeezed O.J." and the same women whose take-no-shit attitude was immortalized on a T-shirt earlier this year, expressed frustration in having to step away from a job title she's infamously held on to for more than half her life.

"I had a good run," she says. "but I could've lasted a few more years."

Dexter began waiting tables at the Bronx Bar in 1977 back when the surrounding area was, as Dexter put it, "a pimp-and-hooker haven." Given the many changes and the ongoing Midtown vs. Cass Corridor debate, Dexter revealed that she feels like more of a target walking home at night now than she did when she first moved to the area (she still lives only a block away from the bar.)

"People just looked out for each other," Dexter says of the community, "They still look out for each other today, but not as much. Everyone is in a hurry to do this, get there, do that. It's Midtown now."

If there is one major takeaway from her various profiles over the years, this most recent Freep piece included, it's that Dexter served more than just drinks, she served as a beacon for the community, for students, and anyone in need of some tough love — whether they knew it or not.

But for Dexter, her job was simple: "bullshit people, keep 'em happy, keep 'em there as long as I can and don't let 'em get too drunk."
So many restaurants, so little time. Sign up for our weekly food newsletter newsletter delivered every Friday morning for the latest Detroit dining news.