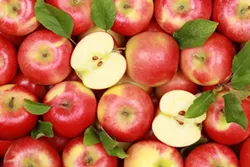 If you recently paid Uncle John's Cider Mill in St. Johns to grab some its old fashioned apple cider you'll want to pay attention. The Michigan Department of Agriculture and Rural Development today issued a consumer advisory for the fall time drink produced there because of the potential of being contaminated with Shiga-toxin producing E. coli bacteria.
In other words, you should dispose of cider purchased from there immediately. A state food inspector collected a routine, random sample of the cider and found that it tested positive for the Shiga-toxin producing E. coli by the department's Geagley Laboratory.
An estimated 1,200 gallons of cider produced on October 17 was affected, and was sold either in plastic jugs or individually by the cup at the mill between Oct. 18 and Oct. 21.

State officials say E.coli symptoms can vary by individual, but often include severe stomach cramps, diarrhea (often bloody), and vomiting, possibly fever, though not usually very high and most people get better in five days to a week. Depending on the person, some of those infected are very mildly sick, while others experience severe to life-threatening symptoms (5-10 percent develop a potentially life-threatening complication known as hemolytic uremic syndrome).

Uncle John's has halted further sales of cider, pending further testing. Customers with questions can contact the mill [email protected] Luckily, no one has reported any illness, but this news is kind of a bummer for folks who prefer their cider and doughnuts from Uncle John's mill.