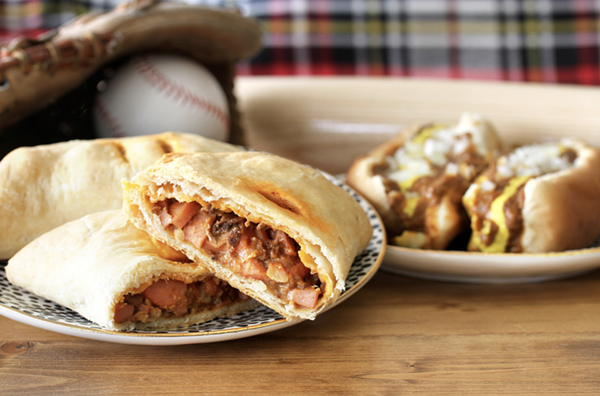 There aren't many dishes that say "Michigan" more than the coney dog and the pasty, so it makes sense that someone has gone and combined the two.
Ackroyd's Scottish Bakery last week rolled out the coney dog pasty and will offer it throughout April to celebrate the return of the Tigers' season.
What exactly is it? In Ackroyd's words, "The coney dog, basically a chili dog topped with onions and mustard, is a Detroit original. We've taken the components, added some cheddar cheese, and stuffed it in our handmade puff pastry." A four pack will run you $24.
The dish was born out of a tradition in which Ackroyd's staff would make coney dogs on Opening Day. That naturally led to the combination of coney dogs with one of Ackroyd's staples, the pasty.
Of course, Ackroyd's isn't the only shop mixing Michigan foodstuffs. American Coney Island's coney dog paczki is
becoming a Paczki Day tradition
. Most recently, Comerica Park announced the coney dog egg roll, which appears to be the combination of an up-and-coming regional dish, the corned beef egg roll, and a coney dog. It seems like it's only a matter of time until Buddy's or Loui's hits the world with corned beef egg roll pizza.
So many restaurants, so little time. Find out the latest Detroit dining news with our weekly food newsletter delivered every Friday morning.