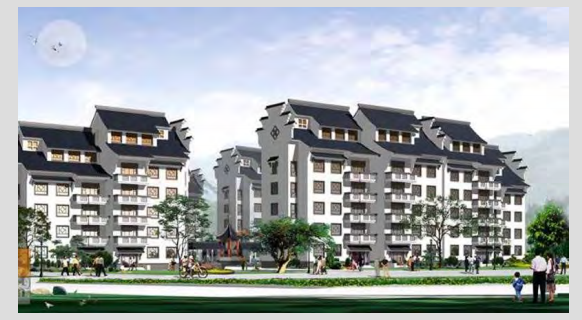 The Ypsilanti City Council is voting on Tuesday
on plans for an estimated $300 million "international neighborhood"
proposed by a Troy-based Chinese-American developer.
The project, called International Village, will be a "regional focal point for Eastern culture, Eastern cuisine, Eastern customs, and Eastern living," according to the project's builders. Its inhabitants will consist of international students, many of who are expected to be Chinese.
Officials say funding for the project will come from the sale of EB-5 visas and other sources, and will require no investment from the city of Ypsilanti. Though it's not immediately clear how much in annual tax revenue the development could eventually generate, it's agreed that it'll provide a significant new source of tax revenue.
That'll free the city from the enormous amount of debt it owes from purchasing the Water Street property where International Village could be built. That debt
has been a drag on the city's finances
and nearly sent it into receivership.
As Beth Ernat, the city's economic development director, previously told
Metro Times
, the project will be "transformative — not just to Water Street, but to the character of the entire community."
But not everyone is sold on the idea that the project is as wonderful as it seems. Some are raising concerns about its potential impact on the city's already skyrocketing rents. Others have argued that the EB-5 visas
are a tool for the 1 percent
, and that funding such a development with the program goes against Ypsilanti's core principles.
And it is an identity-changing development. Ypsilanti will not be the same town we know once a largely "Eastern" development partly funded by the international elite that mostly houses foreign students is dropped next to its downtown.
But, as supporters point out, it's not often that anyone proposes a $300 million development in Ypsilanti, so there's a lot to think about.
"How much are Ypsilanti's core values worth? For some, $150 million might be the right number," Ypsilanti City Council Member Brian Robb tells us, noting that developers' minimum required investment is $150 million, though it's expected to exceed $300 million.
He says Ypsilanti hasn't faced dramatic change in recent years, so "people are being over cautious and over aggressive at the same time."
"On the surface there are a lot of mechanisms at play here that run counter to Ypsilanti's core values," Robb says. "For as long as I've lived here, Ypsilanti has had a working-class, chip-on-its-shoulder, underdog kind of attitude. This is a transformative development that will deeply impact the community."
The development would offer 1,600 bedrooms in buildings that are up to six stories. Plans also call for plazas, restaurants, offices, supermarkets, transit nodes, and an "Eastern-themed" design.
At its May 23 meeting, the Ypsilanti City Council approved a letter of intent to sell 30 acres of the vacant city-owned Water Street property just east of its downtown to International Village LLC. As part of that, the city agreed to a 120-day due diligence period. That period is up this month, and council will vote on a purchase agreement on Tuesday.
The development team told council that 40 percent of the capital will come from the "sale" of EB-5 visas. The visas are available to wealthy foreign investors who invest at least $500,000 in an American infrastructure project that creates jobs that last at least two years. International Village claims it will create at least 1,000 temporary and permanent jobs.
But the visa program is controversial, and such visas are a tool
utilized by elites like developer and White House Senior Adviser Jared Kushner
. Chinese investors make up
90 percent of the visa's recipients
, and
spent $7.7 billion
on "buying" EB-5s – called the "golden visa" – during the last decade.
Cr
itics say the program
has been utilized for money laundering and by people with ties to Iranian and Chinese intelligence. It's also viewed by some as a sale of citizenship for wealthy investors.
Bloomberg
explored some of those issues in its recent EB-5 expose, "
How rich Chinese use visa fixers to move to the U.S.
" Its authors write that some "congressional members have grown to despise the EB-5 program."
"Some can't get over the idea that it smacks of selling citizenship. Others say the program is dirty and point to a series of scams that have defrauded foreign investors and put U.S. citizens in jail. Still others say the program has enriched middlemen and a few big-city developers while doing almost nothing for the parts of the country it was designed to help."
Even when used properly, the EB-5 program functions by keeping the 1 percent wealthy by providing it with opportunities that aren't available to middle class people in places like Ypsilanti.
Given all that, those who aren't totally comfortable with the project find it a little surprising that blue collar/liberal Ypsilanti – which has prided itself as a scrappy and affordable alternative to Ann Arbor – is choosing to have any sort of association with the EB-5 program.
Beyond that, there are concerns about International Village's impact on the city's housing costs. The Ypsilanti Human Relations Commission is in an ongoing discussion over issues related to housing security for low-income residents and gentrification.
Nathaniel Romero, an Ypsilanti resident who is a member of the
Defend Affordable Ypsi
, summed up those concerns in
a recent Damn Arbor blog post
. He notes that there has been little discussion on how the development will impact the rest of the community – especially renters and low-income residents – and DAY
is calling for the inclusion of a community benefits package
.
"The story of International Village is a multifaceted story, but one thing is clear: The interests of vulnerable Ypsilantians are not front-and-center of discussions within the city government," Romero writes.
Related to that are concerns about its impact and what an enclave of largely "Eastern" and Chinese students who will have no real stake in the community will ultimately mean for Ypsilanti's identity.
Finally, it's worth noting that a Chinese-student group at Wayne State University, the Wayne State Chinese Students and Scholars Association, is paying for Ypsilanti Mayor Amanda Edmonds, Mayor Pro Tem Nicole Brown, Police Chief Tony DiGuisti, and Ernat to travel to China with representatives from International Village and builder Spence Brother Construction from Sept. 21 to Oct. 2.
It's not immediately clear how a Chinese student group has tens of thousands of dollars sitting around to fly city officials around the world. We've contacted Wayne State and will update the story with more information once it's available.