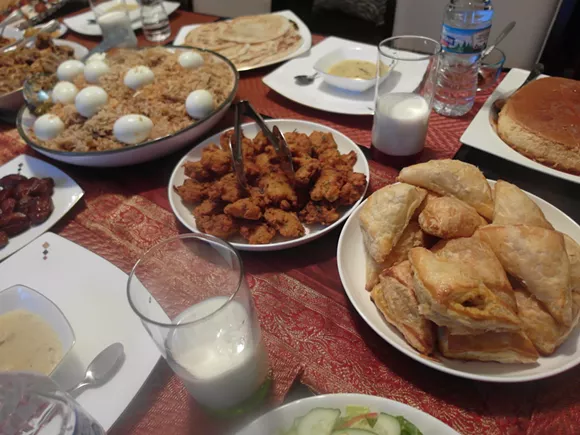 You read Ramadan in the headline and you're thinking, "Why is the restaurant critic talking about NOT eating?" You turn to the food writer to get the latest eating trends, to follow the newest, hip spots, and to unearth the hidden hole-in-the-wall gems, not to read about fasting!
The answer, believe it or not, is that Ramadan may well be the biggest collective food experience in the world. Allow Saeed Khan, professor of Asian and Near East studies at Wayne State University, to break it down: He tells us while it's true that Muslims do without food and drink from sunrise to sunset for 30 days each year as a means for spiritual reflection and charity, what happens during
Iftar
— the official breaking of the fast after sunset — is part celebration and part preparation for the day of sacrifice ahead.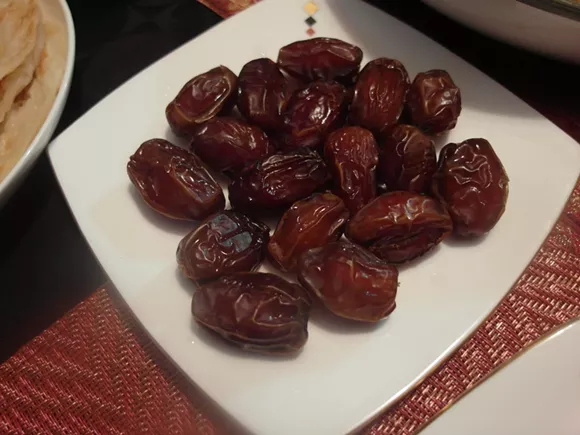 After sunset, Muslim families across the globe prepare elaborate dinners, typically starting with a glass of water, a date, and an Iftar prayer. After that, observers chow down on a multi-course feast that can last well into the night. Many nap for a few hours, attend late night prayers, and rise before commencing with the pre-dawn meal known as
suhur
.
Often in communities with sizable Muslim populations, including Dearborn, Hamtramck, and increasingly suburbs like Canton and Troy, you'll see restaurants set up special Ramadan hours to accommodate their practicing customers, with some staying open 24/7.
Khan tells us that many Muslims use this time to exercise more, get back on track with their diet, or otherwise be more mindful about about their physical health. And as per the spirit of community service, many Islamic organizations hold daily soup kitchens for the needy.
Ramadan commenced for Muslims all over the world June 6. Dictated by the Islamic lunar calendar, which moves backward about 10-11 days each year, this year fasting takes place in metro Detroit from roughly 4:15 a.m. to 9:15 p.m. — about 16 hours.
Locally, the Muslim community is vast in cultural diversity: Muslims are Iraqi, Lebanese, Yemeni, Syrian, Moroccan, Turkish, Bosnian, Albanian, African American, and more. Each ethnicity has unique ways to celebrate Iftar. It all means some pretty epic feasting in homes, mosques, and community centers. At the end of Ramadan, there's the grand finale, Eid Al-Fitr, a huge celebration involving lavish parties, gifts, and of course, plenty of food.
So you see, food and food experience once the daily fast breaks is at the core of the Ramadan tradition.
To that end, we've been invited to a number of events all this month to get a better sense of how many of the people who make up metro Detroit's Muslim community experience Iftar. Stay tuned to read each of their stories.