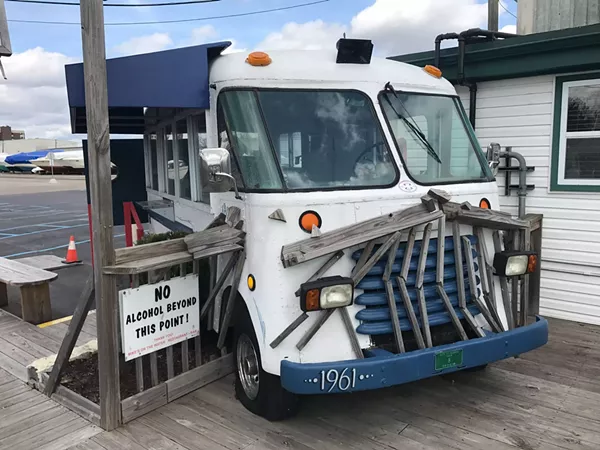 If you follow local politics at all in any city anywhere, then you know someone like Mike LeFevre: a small town guy with wacky, big time ideas. And he makes them happen.
LeFevre owns St. Clair Shores' popular Mike's On The Water restaurant, which sees a good portion of its customers arrive by sea during the summer months.
Mike's opens for the season on March 20 this year, and LeFevre's got a problem he's gotta resolve before then: He installed a rooftop deck last year, but he can't get food up there. Buns were flying off trays as his waitstaff brought burgers up the stairs last season, and who wants a bunless burger? Might as well get a steak at that point.
"That wasn't right," LeFevre says.
The solution: Put a food truck on the roof,
duh
.
Yeah, it's gimmicky. Maybe even slightly batshit crazy. But hear LeFevre out. He's an idea man, and he can sell you on this. In fact, he sold the idea to the St. Clair Shores City Council at its March 5 meeting. It unanimously approved the plans following a LeFevre pitch.
After noting at the outset that he just returned from a trip around the world, LeFevre told the council he's ready for action.
"I'm back and I got more ideas! I wish one day I could shut my thinking cap off, but it doesn't happen .... and I'm comin' back at you again soon," he exclaimed.
Faithful reader: We'll be here to bring you the news.
But a food truck on the roof? That seems logistically challenging.
"If an airplane can fly to the moon, then we can definitely ... put a food truck up there!" LeFevre said.
He'll reinforce the roof with some extra steel, and some cabling will ensure it doesn't roll away, even if he's going to rig the tires so they'll be spinning.
When a council member asked if LeFevre has a food truck, he replied, "There are multiple food trucks available! I could have one in an hour!" Though he later admited he's buying one in Georgia.
But a food truck on the roof? Doesn't that defeat the purpose?
"It'll wow you when you drive down the road!" LeFevre told the council. "You'll see a food truck on the roof! I've never seen 'em there before. I've seen 'em on streets! I've seen 'em on parking lots! I've seen 'em in parks! I've never seen 'em on the roof! I'm beyond fired up on this one!"
If you still aren't convinced LeFevre is excited about this prospect, he also added, "I'll light it up like a Christmas tree, if you want! I'll put a Christmas tree on top of it!"
Later, he clarified, "It'll definitely be done right, and classy. It's gonna be funky, but classy."
How will it get up there? Someone joked about a helicopter, but apparently those details will come later.
When the food truck does happen, you'll find a menu with 16 to 20 dishes from different countries from around the world. It'll probably include those lobster rolls for which Mike's is locally famous.
Stay tuned for more LeFevre.
So many restaurants, so little time. Find out the latest Detroit dining news with our weekly food newsletter delivered every Friday morning.