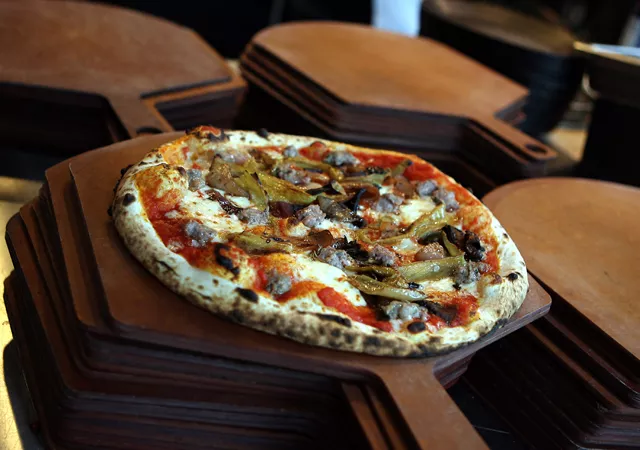 Pizzeria Biga
711 S. Main St., Royal Oak
248-544-2442
Handicap accessible
Pizza and pasta: $10-$20
Salads, small plates: $5-$12
Open 11 a.m.-10 p.m. Sunday-Thursday; 11 a.m.-11 p.m. Friday-Saturday
Royal Oak is overflowing these days with new restaurants, some of which seem like they belong more in mall parking lots than a pedestrian-heavy downtown. Fortunately, one recent addition to the ever-growing roster of eateries pays more attention to the food on the plate than to attracting the bar-hopping hordes. At the lower end of the main downtown area, just south of the railroad tracks in the building that also houses Cloverleaf Wines, Pizzeria Biga turns out wood-oven pies and house-made pastas in a chic but casual environment that attracts a mixed bag of young couples, families and students.
Biga Royal Oak, the second outpost, is smaller and more neighborhood-oriented than the original Biga, opened in Southfield two years ago by Bacco chef-owner Luciano del Signore. The Royal Oak space is a former power station (and the town's second-oldest building), with 30-foot ceilings, a small upper balcony and, of course, the large, handsome red oven. The interior, designed by Michael Chetcuti, is colorful, modern and inviting, and far and away more stylish than the average pizzeria. If you want to forego the cool interior and commune with the passing trains, there is an outdoor seating area, thoughtfully shielded from the street by a tall, vine-covered lattice.
Among the many pizzerias striving for Italian authenticity, Biga (an Italian word referring to the naturally fermented dough) definitely comes very close to the style of pizza I ate while in Naples, the supposed birthplace of the dish. Does that mean it's good? There are as many pizza crust styles as pizzerias, all touting their crust as the best or most authentic; really, it just boils down to the taste of the diner. Some in our party were bowled over by the charred, chewy crust; others found it flavorful, but overly soft, and longed for a bit of crispness. As long as pizza is being made, the debate will rage on.
Wherever your allegiances fall on the thick-and-chewy to thin-and-crispy spectrum, the toppings at Biga are remarkable enough to sway the most finicky of gourmands. With options like duck prosciutto, capicola or house-made Italian sausage for the meat lovers and wood-roasted vegetables or oil-cured hot peppers for the vegetarians, the range and quality are impressive. For those who aren't into tomato sauce, Biga offers as many "white" pies as red — mushroom ragù, with goat cheese or white clam with pancetta being two tempting options.
A good dining strategy is to share pizza and supplement it with a couple small plates and salads. A co-diner found the whole-grain salad undersalted, but I enjoyed both the arugula salad and beet salad immensely. If you're of the carnivorous persuasion, the charcuterie sampler does not disappoint; many of the meats are cured in-house (duck prosciutto, bresaola, salamini, capicola), and the ones that are outsourced are of a very good quality. Speaking of meats, it's worth noting that the restaurant uses grass-fed beef and Niman Ranch (vegetarian fed, hormone-free) pork. Although these cost more, they don't seem to have passed this cost on to the customer; prices for pizzas and pastas were about the same as what you'd pay elsewhere. For an especially good value, schedule a visit between 4 and 7:30 p.m. Mondays, when pizzas and pastas are half-price.
Although pizza is obviously the main attraction here, it's certainly not the only one. A small selection of house-made pastas and a few entrées are offered, and while we bypassed the entrées, the pastas are worth checking out. My dining companion thoroughly enjoyed his orecchiette with slow-cooked, meltingly tender rapini, and I was delighted with the linguine alla vongole, which had a perfectly chewy bite and balanced seasoning. When the weather cools, I look forward to returning for a dish of good old spaghetti and meatballs, with the aforementioned grass-fed beef.
When eating Italian food, wine is typically the beverage of choice, and Biga does a more than decent job with their list. As befitting a casual pizzeria, most of the choices are easy-drinking and relatively inexpensive, although they do offer a few pricier bottles. We liked the fact that several of the wines are available both by the glass and the half-bottle, served in small pitchers for easy sharing. In keeping with current trends, the bar does have a few specialty cocktails, but with this food, I'm sticking with the vino. Wine drinkers, take note: Bottles are half-price on Tuesdays.
If you've somehow managed to save room for dessert, you can choose from such Italian classics as tiramisu, cannoli, gelati and sorbetti. The pistachio gelato had a nice flavor, but we found it to be lighter and icier than expected, given that the menu describes gelato as denser and with less air than ice cream. The cannoli is a good choice for those who don't have a big sweet tooth — it was minimally sweetened, with a light, crispy shell and an interesting savory tang from the house-made ricotta.
When the first Pizzeria Biga opened in Southfield in June 2010, the intention of opening other locations was always part of the plan; two years later, Royal Oak is the first of what may eventually be several local outposts. As long as the food maintains its high quality from location to location — and with the exacting del Signore at the helm, we have no reason to think it wouldn't — a scattering of Bigas across the metro area would be a welcome development.
Noelle Lothamer dines for Metro Times. Send comments to [email protected]