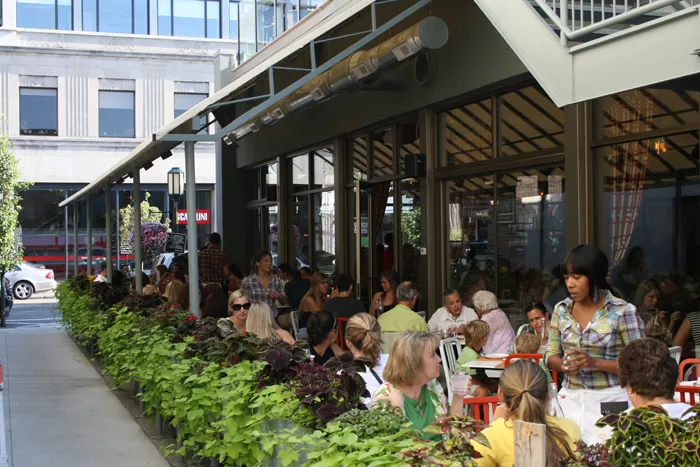 Michiganders suffered a record-breaking and inordinately harsh winter this year, and though we usually enjoy getting a bite to eat and a beer to sip while sitting in the warm summer sun, it seems that in 2014 there's nowhere we'd rather be than enjoying the lovely decks and patios of our local eating and drinking establishments. While there are many beautiful al fresco eateries in the metro area, we rounded up a list of a few choice outdoor dining rooms as a guide for where best to get your al fresco eating and drinking on. Read on.
DETROIT
3Fifty Terrace 350 Madison St., Detroit; 343-687-4350: Situated high atop the Detroit Music Hall Center for Performing Arts, the 3Fifty Terrace features a 10,000-square-foot open-air patio space with a full-service restaurant and bar.
The Rattlesnake 300 River Place Dr., Detroit; 313-567-4400: A Detroit fine-dining staple for over 25 years, the Rattlesnake Club offers seasonal dishes featuring locally grown produce, prime certified Angus beef, and non-farmed finfish and shellfish. Their drink selection includes wines, Michigan-made craft beers, and artisan liquors. Situated on the Detroit River, the Rattlesnake offers diners a delightful view of the international skyline.
Sky Deck Detroit Opera House 1526 Broadway, Detroit; 313-287-3284; detroitoperahouseskydeck.com: No ticket? No problem. The Sky Deck atop the Detroit Opera House is open on a first-come, first-served basis for every Tigers game during the summer, offering a full view of the game without having to be inside Comerica Park. The Sky Deck features a full bar as well as well ballpark fare, including hot dogs, hamburgers, and chicken wings.
Sindbad's 100 St. Clair St., Detroit; 313-822-8000; sindbads.com: Celebrating 65 years in business, Sindbad's offers a basic menu of fresh seafood dishes, homemade soup and chili, and mouthwatering sandwiches. Drink selections include an extensive wine list as well as bottled beers; assorted craft beers are also available upon inquiry. Sindbad's deck overlooking the marina provides a great view of the Detroit riverfront.
MACOMB COUNTY
Brownie's on the Lake 24214 Jefferson Ave., St. Clair Shores; 586-445-8080; browniesonthelake.com: A resurrection of a metro Detroit favorite by the Andiamo Restaurant Group, Brownie's on the Lake offers fresh seafood choices as well as all USDA prime beef. The restaurant, bar, and patio feature a nautical motif throughout, with a comfortable, airy atmosphere, as well as stunning views of Lake St. Clair.
Double D's 240 N. River Rd., Mount Clemens; 586-231-0134; thedoubledbar.com: A good-sized bar and grill located on the Clinton River. Double D's offers the usual bar fare, such as burgers and sandwiches, as well as seafood and pizza. The bar features a wide selection of Michigan-made beers on tap, a list of Michigan-made wines, as well as cocktails made with (you guessed it) Michigan-made liquors. Floor-to-ceiling windows offer plenty of natural light, as well as stunning views of the riverfront.
Luna Kai 37400 Jefferson Ave., Harrison Twp.; 586-468-2611; lunakai.com: With more than 20,000 square feet of waterfront property, Luna Kai is an outdoor bar and grill with a tropical oasis feel. They offer a nice selection of sandwiches, meat and chicken dishes, pastas, and seafood. The outdoor patio and tiki bar offers a full view of Lake St. Clair.
Tin Fish 24420 Jefferson Ave., St. Clair Shores; 586-778-8330; tinfishrestaurants.com:
A lively waterfront location accessible by car or boat, Tin Fish offers a fine menu, including various seafood options, steaks (found under the heading of "Land Lovers"), pastas, and burgers and sandwiches. They have a selection of wines, beers, signature cocktails, frozen drinks, and coffee drinks. In addition to a fine dining experience, patrons can enjoy live entertainment, special events, and a fantastic view of Lake St. Clair.
OAKLAND COUNTY
Daily Post 42875 Grand River Ave., Novi; 248-308-2100; dailypostnovi.com: Sleek and modern inside, Daily Post features a large wraparound bar and elegantly framed sports memorabilia throughout. The eatery's garage-style doors may be opened in nice weather, plus there are two full patios with seating extending off of the main room. The great menu includes burgers that rate a half-pound of Angus beef each.
Palate 449 N. Main St., Milford; 248-714-5707; palateofmilford.com: Open since last year, Palate offers a seasonally changing menu, craft beer flights, and an international wine list. As you'd expect from any eatery with a seasonal focus, an emphasis on local ingredients prevails. Their patio view includes a railroad and water scenes.
Republica 1999 Coolidge Hwy., Berkley; 248-268-3175; republicaberkley.com: The small but ambitious restaurant, whose tagline is "Food & Drink Revolution," styles itself a gastropub, serving a selection of craft beers and cocktails. They offer Greek and Mediterranean dishes, but also items like barbecued ribs, a pork chop sandwich, and fish and chips.
Social Kitchen 225 E. Maple Rd., Birmingham; 248-594-4200; socialkitchenandbar.com: Plenty of local restaurants have embraced upscale comfort food, but few have made it feel as creative. There's a subtle thread of Americana running through each dish, though the influences are widespread: The sandwich menu, for example, features grilled cheese on naan, falafel, and a sizable variation of a classic Reuben. The rooftop lounge is a beautifully appointed space with a fine view of Maple and Old Woodward.
WASHTENAW COUNTY
Arbor Brewery Company 114 E. Washington St., Ann Arbor; 734-213-1393; arborbrewing.com: A cheerful brewpub with house-brewed suds and good upscale pub food, Arbor Brewing Company has a streetside patio, some picnic-style and some patio-style with umbrellas.
Aut Bar 15 Braun Ct., Ann Arbor; 734-994-3677; autbar.com: In the summer months, historic Kerrytown's Aut Bar spills out onto a quiet courtyard perfect to enjoy a sunny meal. Functioning as a restaurant and a bar, the second level is 21 and older only. And, since 1986, there's been a popular Saturday (11 a.m.-2 p.m.) and Sunday brunch (10 a.m-3 p.m.). For brunch, Mexican specialties are standouts, including breakfast burritos or huevos motulenos.
Dominick's 812 Monroe St., Ann Arbor; 734-662-5414: With a sprawling patio and three different outdoor seating options, sit down and enjoy the deliciously refreshing sangria. A favorite is the chicken quesadilla and tomato bruschetta on a toasted baguette.
WAYNE COUNTY
Andiamo Dearborn 21400 Michigan Ave., Dearborn; 313-359-3300; andiamoitalia.com: Modeled after a contemporary Milan bistro, Andiamo Dearborn offers a menu of classic Italian dishes such as homemade pasta. They also offer an award-winning list of red and white wines. The outdoor deck area provides an elegant and relaxing atmosphere in the heart of downtown Dearborn.
Aqua 413 N. Main St., Plymouth; 734-335-7474; aquaplymouth.com: A fine dining restaurant offering a stellar menu with widespread influences such as Mediterranean, Asian, Italian, and more. Drink selection includes cocktails, red and white wines, bottled and draft beer, champagnes, and sake. Patrons can enjoy an open-air patio area with comfortable outdoor seating.
Compari's on the Park 350 S. Main St., Plymouth; 734-416-0100; comparisdining.com: Sister to such dazzling restaurants as the Sardine Room, Compari's good name is secure. Sip on a cocktail or nibble on appetizers as you enjoy a warm summer's night.
Portofino 3455 Biddle Ave., Wyandotte; 734-281-6700; portofinoontheriver.com: A fine riverfront restaurant offering a menu of Italian cuisine and seafood, as well as a selection of global wines and a full-service bar. During the summer, weather permitting, patrons can dine on the patio or cruise the river on Portofino's U.S. Coast Guard-approved vessel, the Friendship.