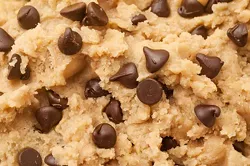 Detroit Dough, the city's first edible cookie dough cafe, is expected to open in 2018 in northwest Detroit's NW Goldberg neighborhood.
Co-founder/CEO Autum Kyles will offer over 50 mix ins, 20 signature creations, and five base flavors, and her cafe will be composed of six shipping containers, a patio, and a bar.
Kyles says the cafe – at Linwood and Ferry Park streets – will offer a 10 percent discount to the neighborhood's residents and 10 percent of nonresident sales will be donated to charities and programs in the neighborhood.
"What better way to give back than to spur economic growth in a neighborhood that's very near to your heart. Sometimes people only want to do one day of community service or support by donating, but I believe that the best way to really create an impact is to develop something that gives back in more ways than one," Kyles says via a press release.
In preparation for the café's opening, Detroit Dough will launch a pop-up location in Midtown from Nov. 1 through Dec. 5, though no specific location is yet available.
Additionally, Detroit Dough is one of nine finalists competing for $10,000 as part of the Michigan Women's Foundation Dolphin Tank competition on Nov. 8.
Although it will likely be the first edible cookie dough cafe, Detroit Dough isn't the first edible cookie dough company –
What Up Dough?!
operates out of Detroit Institute of the Bagels in Corktown.