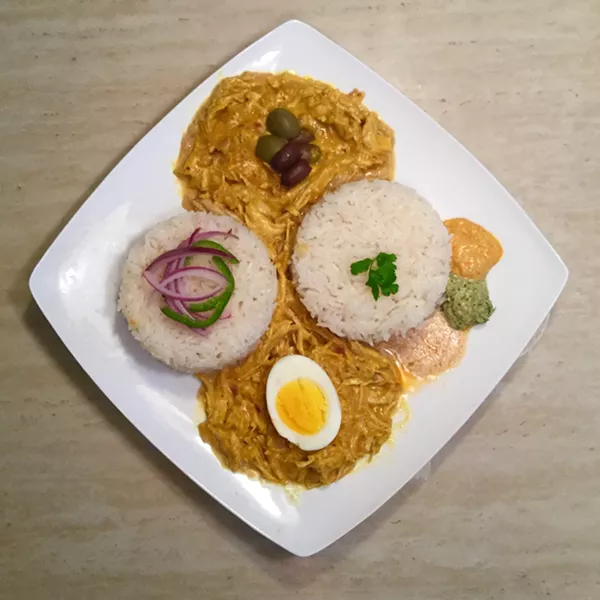 A new Peruvian restaurant is coming together in the former Southern Belle Bistro space in Ferndale, and could be open in early April.
Culantro is a family operation partly run by Peruvian and Ecuadoran immigrants who will offer what they say is Michigan's only fully Peruvian restaurant.
Alvaro Herrera, whose family is opening the shop at 22939 Woodward, tells
Metro Times
that Ferndale is the ideal spot for a new style of eatery.
"Everybody here is receptive to new things, so Ferndale seemed like a good place for us to get started," he says. "I don't think there are any other Peruvian restaurants in Michigan."


When it opens, diners will get a taste of cuisine that Herrera describes as "
similar to Cuban food with a lot of rices and meats. But what makes it a little more unique is a lot of our ingredients are sourced from Peru, so we're going to plan on sticking to a lot of traditional food, but we'll also have newer contemporary takes on old dishes."

That means plates like aji amarillo, a chicken and rice composition driven by the slightly spicy, yellow-orange Peruvian chili pepper.


The menu will also feature mais morado, a purple corn that grows in the Andes, and culantro, which is a strong herb related to cilantro (though it tastes quite different) that's common in Peru.


Another specialty is the pollo a la brasa, a "grilled" chicken that's marinated for 24 hours with Peruvian spices before its roasted above charcoal in Culantro's charcoal oven.

Herrera notes that Peru holds a sizable Japanese immigrant population, so you'll find that nation's prints in some Peruvian cuisine, especially in fish dishes. Culantro will offer a fried rice dish that Herrera says seems like it belongs in southeast Asia, but is actually common in Peru.

The menu will also hold different sandwiches, salads, and more, and Herrera notes that everything will be made from scratch in house.

He adds that his mom, Betty Shuell, will run the restaurant, but he's also working there with his step sister and dad, Ashley and John Shuell. Betty Shuell worked in kitchens in Ecuador before moving to the U.S. around 17 years ago, but this is the family's first restaurant since arriving.