A second Wahlburgers location and a New Order Coffee are in the works on the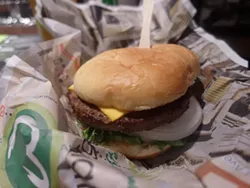 corner of 13 Mile Road and Woodward Avenue.
The stores are part of a 117,000-square-foot development called "Woodward Corners by Beaumont" that also includes a grocery store, a five-story hotel, multiple restaurants, walking paths, and areas for festivals and fairs.
Construction on the 16-acre site is underway, and is expected to be complete by the end of 2018. The businesses should be fully open by early 2019.
A Wahlburgers is also in the works for Taylor, but no details are yet available for that project.
Wahlburgers opened its first Michigan location in Greektown in Downtown Detroit in August 2016. Paul, Mark, and Donnie Wahlberg are all partners in the stores, of which there are 17 in the U.S. and Canada.