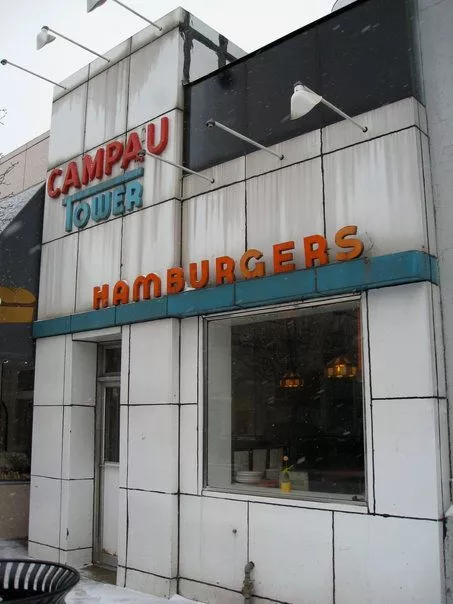 Some might say the Hamtramckans Facebook group is a page full of dramatic hipster trolls, and their case would be strong. But you also can't deny that it's sometimes a potent economic development tool.
Case in point is a somewhat absurd Aug. 25, 2015 thread in which rumors of a new Taco Bell planned for the city's boarded up Wendy's got the townsfolk super excited about the prospect of "Mexican food" being served in downtown Hamtramck. The rumor sort of lingered through the years, but it was really just someone's idea of a cruel joke.
However, it got the gears in Mike Petrack's head moving. Hamtramck obviously wants some Mexican food, Petrack noted, and there hasn't been a Mexican restaurant in town since Maria's Comida closed around seven years ago. (There have been taco pop ups like the venerable Timmy's Tacos, but it no longer has a regular night.)
He'll remedy that when he and partner Britany Olmstead open Dos Locos Taqueria in the former Campau Tower at 10337 Joseph Campau. It will trade in tacos, burritos, quesadillas, fresh chips, fresh salsas, fresh guacamole, and lots of hot sauces.
"It all goes back to a thread in the Hamtramckans group when the Wendy's closed and there was all this speculation, or joking, that it was going to be a Taco Bell," Petrack tells
Metro Times
. "It surprised me how much people want Mexican food in Hamtramck. I've lived here for at least a decade off and on ... and I think it's time to have that option back in the neighborhood."
"Our biggest goal is to stay community-based and offer tacos to everyone in Hamtramck. That's been missing too long," Olmstead adds.
Petrack says Dos Locos won't be super traditional as they won't offer pork to make the spot welcoming to Hamtramck's large Muslim community. They'll also offer more vegetarian options than is common at a taqueria.
The drink selection will include Jarritos, Topo Chico, Mexican Cokes, and other soft drinks, and Petrack says they might offer horchatas down the road.
A soft opening could happen as soon as Paczki Day (Tuesday, Feb. 13), and Dos Locos is hoping to be fully up and running by Hamtramck Music Fest in early March.
At the outset, it will be open from sometime in the afternoon until midnight on weekdays and 4 a.m. on weekends.
Campau Tower operated as a greasy burger spot for decades before Rock City Eatery's Nikita Sanches took it over in 2014. He passed it off to an employee not long after Rock City Eatery moved to Midtown, and it changed hands several times over the last year.
Petrack has managed and waited tables at spots like the Majestic Cafe and TV Lounge, while Olmstead helped open Aubree's Pizzeria and Grill locations throughout Michigan. Together they have a combined 30 years in food service, Petrack says, and the recently-vacated Campau Tower seemed like a good opportunity for them to strike out on their own.
"It was available, and it being our first restaurant, it seemed achievable for us," Petrack tells us. "I've always enjoyed coming here and getting some food before going home at night."