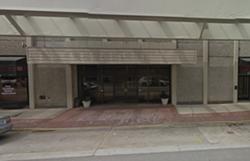 A new meadery is planned for 2018 in the first floor of 100 S. Fourth Ave.
On its website, Bløm Meadworks describes its meads as "light, dry, carbonated, and remarkably sessionable ... unlike most meads, though, we ferment it like a dry, craft-cider, so the result isn't nearly as thick or sweet as traditional mead." Its expected to start producing in 2018,
Eater
reports.
Co-owners Lauren Bloom and Matt Ritchey are focused on local foods, and come from the local food movement. Bloom formerly served as board vice president of Slow Food Chicago, an organization that works to promote food produced in a way that's good for consumers, farmers, and the environment. Ritchey is a former head brewer for Begyle Brewing, a position he left when he learned that he can't process gluten, thus his "love affair with beer had come to an abrupt end."
Bløm will offer a small menu but encourage BYOF (bring your own food), and will host small events like live music or film viewings.
Documents submitted to the Ann Arbor Planning Commission show that Bloom and Ritchey are expecting to invest around $200,000 in renovating the space.