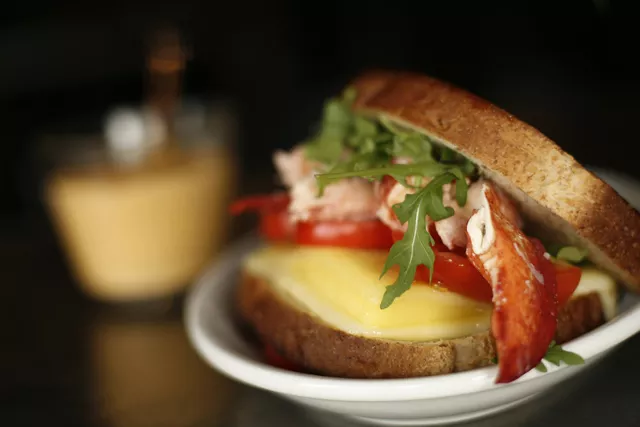 Majestic Café
4124 Woodward Ave., Detroit
313-833-9700
Restaurant reinvention poses unique challenges, not the least of which is confusion for potential customers. So it's understandable for Majestic Café to undertake the comfortable approach they describe as "Modern. American. Classic." A departure from the eclectic mishmash of years past, the new menu is replete with Michigan ingredients, rich entrées and firmly American approaches.
The new direction is spearheaded by chef Raven Crane (formerly the culinary director at Westborn Market), whose menu shows a dedication to local ingredients. Indeed, the café now advertises that — during the warmer months — it uses produce grown in the North Cass Community Garden.
Appetizers employ more than a few Michigan products. The baked brie is covered in walnuts and tart Michigan cherries; and mussels come cooked in either Black Star Farms wine or local beer. Our favorite preparation sports mollusks piled in Motor City Brewing Works' Nut Brown Ale, Dearborn bacon, and a Saga blue cheese for $10.95. The brie-like cheese in the broth lends an earthy, bitter quality, and Crane provides crunchy grilled bread to facilitate the compulsory sopping duties.
Soups at Majestic rotate frequently, but there are a couple to choose from, and dedicated herbivores will be pleased to know that salads are treated equally creatively as the rest of the menu. Even the arugula house salad comes delicately tossed in a maple dressing with candied walnuts, a thick slice of Saga blue and a crisp apple wedge.
Majestic has always had a big menu, and, despite the new course charted by chef Crane, that still holds true. The café offers more than a dozen sandwiches, nearly as many entrées, and some daily specials. Despite the number of items, the selection — in keeping with the theme — is entirely approachable. Just about any classic American comfort dish one might crave in the throes of February can be found here: pot pies, pork chops, steaks, burgers, mac and cheese. Each is rooted in a classic preparation but distinctively made. And each is fit for the hungriest diner.
Consider the lobster mac and cheese for $17.95, which is decadent, full of meat, and served in portions that may actually be visible from high planetary orbit. Guinness should officially recognize anyone who hits the bottom of the bowl.
Just as large but a bit more restrained is the 1-pound, bone-in pork chop stuffed with a trio of spinach, apple and cherry, the latter of which adds an appealing touch of tartness. It arrives with two sides: a somewhat awkward vegetable medley with summer squash, broccoli, mushrooms, celery and onion, and a nicely textured redskin potato mash. Presentation isn't always strong: Everyone knows restaurants often use ice cream scoops to plate potatoes, but that unattractive reality shouldn't be patently obvious.
Lunch features many of the same options as dinner. Those in the mood for something light but filling might enjoy the salmon burger pleasantly kissed with herbs. A favorite in our dining party has been the bacon and apple melt ($8.95) with arugula, Granny Smith apple and smoky white cheddar (not melted, despite the name) between whole wheat bread.
Daily specials tend to be inspired creations, a recent example being a perfectly grilled tenderloin sandwich. Served on a brioche bun, the steak was accompanied by fig butter, caramelized onion, Swiss and arugula. The combination of the bitter greens, onions and sweetened butter produced irresistible results.
Among the sides, the sweet potato fries stand out. Longtime customers may remember clunky, flavorless wedges of years past. They've been replaced with a homemade version — perfectly crunchy on the outside, soft on the inside, lightly salted. All the sides are a bit pricey, but sweet potato fans should confidently fork over the $4.95.
Brunch has been a longstanding tradition at Majestic, and they've carried it over. Some standards are available for diners in search of omelets or pancakes, but try the homemade sweet potato biscuits and gravy for $9.95.
The local motif extends to drinks, where some Michigan beers are listed among the usual macrobrews, and Michigan wines dominate over California products. Far more exciting, though, is one of the spring selections: Domaine de la Pepiere muscadet, a crisp, inexpensive ($7 a glass, $30 a bottle) French white that should be on more lists around town.
Desserts rotate and are a combination of purchased and house-made, a recent example of which was a moist, tasty chocolate mousse cake. If you order coffee to wash down your confections, you'll be served Biggby, an East Lansing company that fits the Michigan motif — but nonetheless a curious choice given the superior locally roasted options.
You may wait a bit for your bill as you're wrapping up. Service at the reinvented Majestic is middling, with some staff still adjusting to a new menu. And waits were noticeable even for customers obviously dressed for a show down the street. That's certainly not uncommon elsewhere, but it's always disconcerting to see servers chatting with each other while customers are impatiently tapping feet and approaching the bar to pay.
The Majestic complex is an institution, and it's been a shame to see the café lacking direction. Despite any hiccups in the changeover, the well-defined approach, the community garden and some delicious, hearty American fare have resurrected Majestic Café as a go-to spot for locals and suburbanites alike.
Kitchen open 11 a.m.-10 p.m. Tuesday-Thursday, 11 a.m.-midnight Friday, 10 a.m.-midnight Saturday, 10 a.m.-10 p.m. Sunday. Bar closes at 2 a.m.