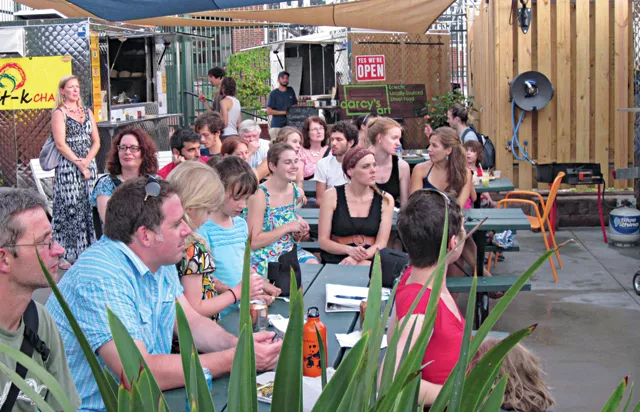 $=$5-$10; $$=$10-$25; $$$=$25-$50; $$$$= $50+
Afternoon Delight 251 E. Liberty St.; 734-665-7513; afternoondelightcafe.com; $: Open every day until 3 p.m., serving a variety of creative breakfast and lunch plates to an often — particularly on Sundays — out-the-door crowd. 
Anthony's Gourmet Pizza 621 S. Main St.; 734-971-3555; anthonysgourmet.com; $$: The closest thing to Chicago-style deep dish in Ann Arbor, also serving Sicilian and "gourmet" deep dish (with a vegetarian option).
Aut Bar 315 Braun Court; 734-994-3677; autbar.com; $$: In the summer months, historic Kerrytown's Aut Bar spills out onto a quiet courtyard. Functioning as a restaurant and a bar, the second level is 21 and older only. And there's a popular Sunday brunch that has spilled over into weekday lunches. The Aut Bar caters to the LGBT community and their friends, families and allies.
Amadeus Cafe & Patisserie 122 E. Washington St.; 734-665-8767; amadeusrestaurant.com; $$: Like an old-world Vienna café serving a variety of traditional dishes from Central Europe, desserts, and a unique list of wines and beers. Candlelit dinners and live classical music on weekends make for romance. Closed Mondays.
Arbor Brewing Company 114 E. Washington St.; 734-213-1393; arborbrewing.com; $: This brewpub's drinkable house brews complement a menu of "upscale pub food." The award-winning spot hosts regular beer tastings for the serious fans, but it's also accessible for those wanting to try beer that brims with flavor.
Ashley's Restaurant and Pub 338 S. State St.; 734-996-9191; ashleys.com; $$: Upscale but casual, with dozens of beers on tap, a massive menu of bottled beer, and scores of single-malt scotches and small-batch bourbons. "Michigan's premier multitap," also serves a full menu of food, with popular choices being their round 8-slice pizzas, their burgers and their "specialty fries," including such flavors as pesto and bacon-cheddar-chives.
B.D.'s Mongolian Barbeque 200 S. Main St.; 734-913-0999; $: You know the drill: In the center of the dining room is a massive grill, staffed by "Natural Born Grillers," whipping up an endless array of meat, vegetables and spices, which you, the diner, select from a fresh, raw buffet and bring to them. You can't complain when you get what you want.
Bell's Diner 2167 W. Stadium Blvd.; 734-995-0226; $: Bell's seems to be a normal American diner — and, especially at breakfast, it's much like one. But its kitchen also excels at producing the Korean items on the menu, giving you a choice of bacon or bulgogi.
Black Pearl 302 S. Main St.; 734-222-0400; blackpearlonmain.com; $$$: A seafood and martini bar that aims for "comfortable and cool," well-suited for socializing and entertaining. Opens every day at 5 p.m. Becomes a lounge after 9 p.m.
Blue Nile 221 E. Washington St., Ann Arbor, 734-998-4746 Family-owned and operated, this western outpost of the Blue Nile Ethiopian dining mini-chain offers an unusual experience. Diners are handed piping-hot washcloths for their hands, and then the food, which is sponged up with bits of bread called injera. And the food, which can include meats but can also be veggie-only, is slow-cooked, healthful and delicious. Since it's all-you-can-eat, nobody will walk away hungry.
Blue Tractor 207 E. Washington St.; 734-222-4095; bluetractor.net; $$: Decorated in wood and rough metalwork, it exudes the feel of a big, rustic barn, ideally suited for serving up barbecue to 100 close friends. Blue Tractor offers combo plates ranging from two to all five of the meats. The largest is presented attractively, like a family-style dinner, certainly big enough for two people to share (and perhaps to take some home). Their Bumper Crop IPA isn't burdened with too much hoppiness and will wash down a plate of ribs pretty damn well. Beer-heads might consider going with a sampler of five or six beers, or asking about their rotating seasonal beers — recent seasonals on tap have included strawberry-and-cream ale, which the bartender called "creamy in body and mouthfeel, with a subtle finish of strawberries." 
Brown Jug 1204 S. University Dr.; 734-761-3355; brownjug-annarbor.com; $: In the heart of U-M's campus since 1938, with walls festooned with Wolverine history and football memorabilia. Catch the game while enjoying more than nachos and cheese sticks, enjoying Greek sausage and even calamari. 
Cafe Felix 204 S. Main St.; 734-662-8650; cafefelix.com; $$: The tradition of a European café holds true to form, with a prime wine assortment, coffee drinks and delicious food. Every finishing touch within the butter-colored walls is on point.
Cafe Zola 112 W. Washington St.; 734-769-2020; cafezola.com; $$$: One of the more comfortable restaurants in Ann Arbor. Mains have included lamb chops a la Turque, flat-iron steak with garlicky chimichurri sauce, and ahi tuna in a sesame-seed crust with wasabi butter. The wine list, a thoughtful if somewhat pricey one, contains a handful of relatively obscure bottles in the high 20s to the middle 30s. In season, a sizable outdoor patio beckons.
Carson's American Bistro 2000 Commonwealth Blvd.; 888-456-3463; carsonsamericanbistro.com; $$$: Good, solid American fare includes both turf (filet mignon, rib-eye steaks, prime rib, tender beef medallions) and surf (crab cakes, cedar planked salmon, blackened tilapia, Parmesan-crusted lemon sole), and a few more affordable sandwiches (such as a bistro burger or bison burger). Then again, this is Ann Arbor, so expect smoothies and gluten-free options as well. Open 11 a.m.-10 p.m. Monday-Thursday; 11 a.m.-11 p.m. Friday; 4 p.m.-11 p.m. Saturday; noon-9 p.m. Sunday. 
Casey's Tavern 304 Depot St.; 734-665-6775; caseys-tavern.com; $$: Thick burgers with a slew of topping choices (think grilled mushrooms, guacamole and bleu cheese) are Casey's signature, courteously offered as either turkey, veggie or beef burger. Don't worry about a parking garage, since it's just outside the downtown cramp. Casey's is classic and classy. Closed Sundays.
The Chop House 322 S. Main St.; 888-456-3463; thechophouserestaurant.com; $$: Luxurious, comfortable and pushily elegant, serving prime beef, fine grain-fed protein and exceptional premium wines. Open 5 p.m. Monday through Saturday, 4 p.m. Sundays. 
Crazy Wisdom Tea Room 114 S. Main St.; 734-665-9468; crazywisdom.net; $: The ground floor twinkles wholesomely with spiritual paraphernalia. Upstairs, enjoy a pot of tea or coffee with a view of Main Street. Live acoustic sounds some nights. Call or check the website for details.
Dominick's 812 Monroe St.; 734-662-5414; $$: Nestled in a quiet Ann Arbor neighborhood at Monroe and State streets, Casa Dominick's is an almost-50-year-old sidewalk café. Suffused with ample outdoor seating, Dominick's porches, balconies, courtyards, and outdoor fountain welcome those who love fair weather March though November. More an "afternoon spot" than a nighttime hangout, this informal oasis is open until 10 p.m. Monday-Saturday. It's a favorite after-work or lunch destination for townies, city workers, professors and students alike. No waitstaff here — the menu is written in colored chalk on boards above the counter. And although Dominick's may be more famous for their selection of beers on tap, don't miss their house recipe sangria and special invention "constant buzz" (a fruity frozen drink) served in Mason jars.
The Earle 121 W. Washington St.; 734-994-0211; theearle.com; $$$: The vault-like Earle is an Ann Arbor legend, with its candlelit tables, imaginative kitchen and live jazz. Start in the elegant wine bar with its daily specials or check the 30-page wine list. Happy hour 5-8 p.m. Monday through Friday. Open 5-9 p.m. Monday-Thursday; 5-11 p.m. Fridays; 5:45-11 p.m. Saturdays; 5-8:30 p.m. Sundays. Closed Sundays during summer.
Earthen Jar 311 S. Fifth Ave.; 734-327-9464; earthenjar.com; $: Catering to vegetarian tastes, their signature "mostly vegan buffet" is heavily Indian influenced, with hints of Pakistani (yellow lentil dal moong), Italian (tofu lasagna) and even dishes of the American South (turnip greens).
Fleetwood Diner 300 S. Ashley St.; 734-995-5502; $: The only 24-hour diner in downtown Ann Arbor, this is genuine greasy spoon eating. The Fleetwood looks like a small trailer propped atop the hill at Ashley and Liberty, packing in cheap-breakfast seekers on a dozen bar stools and at a handful of tables since 1972.
Frita Batidos 117 W. Washington St., Ann Arbor; 734-761-2882; fritabatidos.com; $: Chef Eve Aronoff's new casual restaurant serving Cuban fare, serving a frita — "a Cuban burger made from spicy chorizo served with shoestring fries on top in a soft egg bun" — and batidos — "tropical milkshakes made with fresh fruit, crushed ice and a drop of sweetened milk."
Gandy Dancer 401 Depot St.; 734-769-0592; $$$: One of Ann Arbor's most popular restaurants offers a daily menu of fresh fish, seafood, steaks, and pastas in a historic brick and granite structure. A C.A. Muer restaurant that transcends the casual tavern concept, known to U-M students as the place to take Mom and Dad (when they're picking up the tab, that is).
Gourmet Garden 2255 W. Stadium Blvd.; 734-668-8389; gourmetgardenmi.com; $$: Start with a steamed vegetable dumpling, move on to the cold smoked duck, then try the scallops with garlic sauce. Not overly Americanized. 
Grange Kitchen & Bar 118 W. Liberty St.; 734-995-2107; grangekitchenandbar.com; $$: Located in the heart of downtown Ann Arbor and open to the public for a little more than a year, Grange offers food sourced from more than a dozen local farms, creameries and orchards — and with details on each available on the menus and website.
Gratzi 326 S. Main St.; 734-663-6387; gratzirestaurant.com; $$$: One of Gratzi's most popular offerings is the antipasti buffet, where a little sign informs you that the items are changed every three hours, for freshness. This seems unnecessary in a joint with pretensions to class, but never mind: the grilled vegetables; marinated olives and mushrooms; prosciutto, cappicola and sopressata make for hearty appetizers. An extensive wine list is Italian and American, with bottles ranging from $20 up. Gratzi offers fish, chicken, veal, pork and beef dishes as well, including an Angus porterhouse.
Grizzly Peak Brewing Co. 120 W. Washington St.; 734-741-7325; grizzlypeak.net; $$: Grizzly Peak has the feel of a restrained hunting lodge that enjoys its own history more than its kills (you'll find a mounted buck or two, but the exposed brick interior tends to remain neutrally bare). But the award-winning beer is the real centerpiece, featuring several on-tap Weissbiers and ales during the summer months. Some specialty brews go fast — call for detailed offerings.
Heidelberg Restaurant 215 N. Main St.; 734-663-7758; $$: With the facade sign imploring "Eat, drink, dance and be merry," it's not kidding. With a 50-year-plus tradition of bringing Ann Arbor's German roots alive, it boasts a genuine rathskeller (a German-style basement bar) complete with German wheat beers and lagers; the dining room offers schnitzels, wursts and other German plates; and the Club Above plays host to entertainment. Call for details.
Jamaican Jerk Pit 314 S. Thayer St., Ann Arbor; 734-585-5278; irierestaurant.com; $$: Serving jerk chicken, jerk pork and various other Caribbean delicacies under the guidance of chef Robert Campbell.
Jerusalem Garden 307 S. Fifth Ave.; 734-995-5060; jerusalemgarden.net; $: The brick garden patio is the perfect accompaniment to Jerusalem Garden. It covers the basics for less than $5 or $6: falafel with baba ghanouj and hummus options, shawarma, kebabs. 
Jolly Pumpkin Cafe and Brewery 311 S. Main St.; 734-913-2730; jollypumpkin.com; $$: While pub-like in atmosphere, the food is a bit more up-to-date. Expect tofu cracklings, French fries flavored with rosemary and truffle salt, and a butcher's snack board of cured meats and more. There is no real entrée menu as such. A small list of daily specials is offered, such as broiled walleye and mushroom risotto. The rest of the list consists of salads, sandwiches and pizza. Children are considered with an entire section of their own. And, of course, there is the beer. Diners not yet familiar with Jolly Pumpkin beers might want to ease into the experience with something slightly tamer, like a North Peak Amber Ale. But hardcore fans will likely find the cask ale to be the liquid they want in their glass. 
La Dolce Vita 322 S. Main St.; 734-669-9977; $: Located inside the Chop House restaurant. Offering the finest in after-dinner pleasures, including chocolaty cakes, fruity tortes, mousse parfait and more.
Logan 115 W. Washington St.; 734-327-2312; logan-restaurant.com; $$$: The eclectic fare, which emphasizes Asia and the Caribbean, is reflected in the appetizers. For example, Thad brilliantly executes a platter of four crispy Chinese pork dumplings atop cilantro, laced with a subtle, tamarind-infused tomato sauce. Although the portion size will disappoint those hoping to share, the tuna tartare, a small mound of yellowfin folded into a dijon-thyme dressing, is a pleasing delicacy. Other appetizers include broiled mussels and crab cake.
Mark's Carts 211 W. Washington St.; markscartsannarbor.com; $: Not a restaurant, but a food court filled with food carts, this is the brainchild of Mark Hodesh, owner of Downtown Home and Garden, as well as the food court and commissary kitchen behind it. Hodesh, who opened the Fleetwood Diner in 1972, decided to take the rear property he couldn't rent and turn it into a kitchen and court for carts. Open since last spring, they have several carts up and running, serving food that ranges from ethnic to vegan.
Mani Osteria & Bar 341 E. Liberty St., Ann Arbor; 734-769-6700; maniosteria.com; $$$: This Italian restaurant has embraced the national trends toward comfortable dining and shareable plates, adding energy and buzz to the area between State and Main streets. Inside, the bar and several high tables occupy the front area, and a few stairs lead to the main floor. An open kitchen overlooks everything, and the glow of wood-fired ovens set into the tiled cooking space is visible across the spacious, contemporary dining room. Meeting the growing demand for better drinks even at casual establishments, Mani offers some creative cocktails. Most are thematically on point, featuring ingredients of Italian provenance: Carpano Antica vermouth, prosecco, Campari, and so on. When ordering, one will find a long, thoroughly appetizing list of small, shareable antipasti plates. Try as many as you can. 
Melange Bistro Wine Bar 314 S. Main St.; 734-222-0202; $$: Unique dining experience, casual, sophisticated and relaxed atmosphere in a contemporary, subterranean bistro. Eurasian eclectic cuisine infused with worldly ingredients. Happy hour 4-6 p.m. weekdays. Closed Sundays.
The Melting Pot 309 S. Main St.; 734-622-0055; $$$: A new way of dining mixed with an old favorite, the Melting Pot brings back the fun of fondue. Dipping an assortment of breads, vegetables and apples in your choice of cheese fondue allows you to dictate your desired taste.
Old Town Tavern 122 W. Liberty St.; 734-662-9291; oldtownaa.com; $$: A tavern since 1867, the brick walls are covered in old photos and playbills, and the wood floor and tin ceiling radiate history. Reliable menu, always a Bell's beer on tap, and window tables excellent for people-watching. 
Palio 347 S. Main St.; 734-930-6156; paliorestaurant.com; $$$: Italian fare in a convivial setting, with the usual pastas, lasagnas and chicken, veal and fish options. High culinary standards. 
Pizza Bob's 814 S. State St.; 734-665-4517; pizzabobs.net; $: It's about $7 for a 10-incher with pepperoni. Kinder still, you can share a 16-incher with same for $6 each. Lunch, dinner, takeout and delivery. 
Prickly Pear Southwest Café 328 S. Main St.; 734-930-0047; pricklypearcafe.com; $$: Unique Southwestern dining in a lively decorated and casual atmosphere, serving scallop quesadillas, sweet potato enchiladas and sought-after margaritas. 
Real Seafood Company 341 S. Main St.; 888-456-3463; realseafoodcorestaurant.com $$$: Comfortable, casual and sporting a great seafood menu, this "unchain" does it all, from fresh pastas to raw bar delicacies.
Red Hawk 316 S. State St.; 734-994-4004; redhawkannarbor.com; $: A nice stop for a hot sandwich or a glass of uptown brew after scoring at the bookstores on Liberty Street. The burgers are 7-ounce wonders, available with more than a dozen toppings, some unusual, like dill pickle chips.
Seva 314 E. Liberty St.; 734-662-1111; sevarestaurant.com; $$: A few steps above the street, the raised patio offers diners a bit of respite from the foot, bike and car traffic criss-crossing downtown Ann Arbor. The eclectic dishes change weekly and range the globe (from Ethiopian to Mexican, Indian to Italian), converting traditional meat-based fare into vegetarian or vegan. They also offer a full bar and juice bar, smoothies and cocktails (all juices fresh squeezed, right down to the margarita lime), along with an extensive wine list. But these all-in-house-made offerings come at a moderate price. Brunch on Saturdays and Sundays; half-priced wine on Tuesdays.
Sweetwater's Cafe 123 W. Washington St., Ann Arbor, 734-769-2331; 407 N. Fifth Ave.;734-622-0084; 3393 Plymouth Rd.;734-327-6330; $$: Three clean-lined, wood-floored, pricey-baked-good-stocked locations — one in historic Kerrytown, one just a block from Main Street and Liberty, and one at Plymouth Green Crossings — position Sweetwater's as the sophisticated café choice in Ann Arbor. Signature coffees include the Dragon Eye (house coffee and condensed milk) and the Monkey Cap (a chocolate cappuccino).
Vinology 110 S. Main St.; 734-222-9841; vinowinebars.net; $$$: The Jonna family's Ann Arbor wine shop aims to educate people about wine. And flights of wine are paired with delicate small plates to heighten everybody's enjoyment. 
Weber's Restaurant 3050 Jackson Rd.; 734-665-3636; www.webersinn.com/restaurant; $$: Fitted inside this deluxe, full-service hotel, founded in 1937 by Herman Weber, this restaurant is still owned and operated by the Weber family. Sunday brunch.
Zingerman's Delicatessen 422 Detroit St.; 734-663-3354; zingermanscommunity.com; $$: Opened in March of 1982 by Paul Saginaw and Ari Weinzweig, the deli served as the foundation for the extended Zingerman's kingdom of today, which includes Zingerman's Next Door (422 Detroit St.; 734-663-5282; $$), as fine a deli as anyone could wish for, and Zingerman's Roadhouse (2501 Jackson Ave.; 734-663-3663; $$$) American food served in a setting that harks back to the day when weary travelers could recharge with a comforting meal by the roadside.
See any inaccuracies in our listings? Let us know! Call 313-202-8043 or e-mail [email protected].