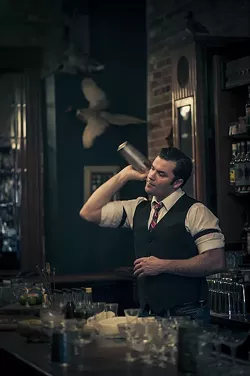 Detroit is beginning to look like the place to be for meat-lovers far and wide.
At the corner of Gratiot Avenue and Jay Street lies the building that once housed Detroit Candy, as well as a meat processing store and, presently, a residential area.
The Detroit Free Press reports
that its owners are joining forces with
Detroit Optimist Society partner and restauranteur Dave Kwiatkowski
to transform the building into a meat- and wine-centered restaurant called Gratiot Avenue Provisions.
Kwiatkowski, whose other ventures include the Sugar House Bar, the Peterboro, Wright & Co., Honest Johns and Bad Luck Bar, says the restaurant will specialize in muscle meats from the soon-to-launch charcuterie of the same name. It will seat approximately 100 inside, and another 50 on the rooftop patio.
Though Gratiot Avenue Provisions will offer craft cocktails, wine will feature most prominently (it will even boast a basement wine cellar). Dinner will be available seven days a week, along with a weekend brunch. The restaurant will also be open for lunch midweek, with a focus on grab-and-go items.
Though no opening date has been specified, Gratiot Avenue Provisions is one of several upcoming butcher-restaurant fusions to set up shop in Detroit. Other similar establishments include steakhouse Prime + Proper, which will open soon in Capitol Park, and Marrow in the West Village, which is set to debut toward the end of 2017.