60 Boboville Brunch at Kelly's in Hamtramck 2403 Holbrook Ave., Hamtramck; 313-872-0387: Chef Blair Wills is one of Detroit's top brunchers and prepares at least one vegan item on his regularly shuffled menu, but he says he can make most egg dishes vegan upon request.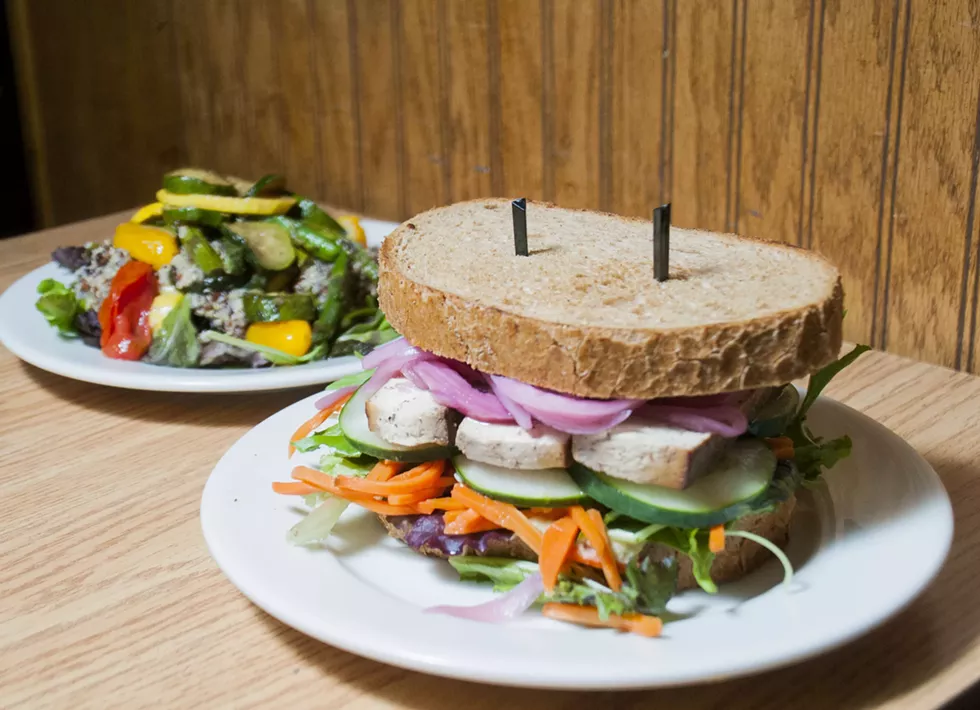 61 Jerusalem Gardens 314 E. Liberty St., Ann Arbor; 734-995-5060: One of Ann Arbor's favorite old-school vegetarian and vegan spots that trades in the Middle Eastern standards on its 42-plate menu.
62 Pho Nguyen Hoang 510 Wyandotte St. W., Windsor, Ontario; 519-977-0852: Our friends in Windsor say this Vietnamese spot is one of the few spots that vegans can slurp a bowl of meat product-free pho.
63 7 Greens 1222 Library St., Detroit; 313-964-9005: A salad shop is sort of a no-brainer, but salads can be boring. However, 7 Greens does it right. Behold items like the Hippie Bowl made with red cabbage leaves, corn, black beans, radish, green onion, organic blue chips, avocado, salsa fresca, vegan taco meat, hemp hearts, and lime wedge.
64 Hippie's Pizza 121 W. 13 Mile Rd., Royal Oak; 248-733-1111: Hippie's made its name on creative toppings like hemp seed and corn, and it didn't forget about vegans. Pizzas can be ordered with Daiya cheese and vegan sausage and pepperoni. As a bonus, there's also a vegan dessert menu with choices like Vegan Bam Bam Bread.
65 Pupuseria 3149 Livernois Ave., Detroit; 313-899-4020: As one of our sources explains, you have to know a little Spanish to tell the Salvadoran waitstaff that you don't want any meat product stuffed into the thick, fried tortillas that comprise a pupusa. So bring your bilingual pals. Or check out the elote tamales with grilled corn and bean masa. It's worth the extra effort.
66 Shimmy Shack Multiple locations: New American is all the rage these days, but new American vegan food is something original. Check out plates on the vintage food truck's rotating menu like the Classic, your classic burger with a lentil patty under lettuce, vegan cheese, tomato, pickles, mustard, and ketchup.
67 Pink Flamingo 2746 Vermont St, Detroit; 414-630-9603: The rotating weekly menu on this farm-to-table food truck serves menu items like the savory chickpea and zucchini waffle with roasted summer squash. The Pink Flamingo rolls in a vintage airstream that you'll regularly find in North Corktown and other spots. Check its website for more details.
68 Ben and Jerry's Multiple locations: The national chain's Ann Arbor location keeps a few vegan options on tap, like scoop Caramel Almond Brittle and PB and Cookies, and it stocks ice creams like Cherry Garcia, Coffee Toffee, Chunky Monkey, Chocolate Fudge Brownie, and more by the pint.
69 Orchid Thai 115 Monroe Ave., Detroit; 313-962-0225: Another Thai favorite among our sources with plenty of vegan options and dishes that can be made vegan with slight modifications. As always at Thai places: Beware of the fish sauce!
70 Parks & Rec Diner 1942 Grand River Ave., Detroit; 313-446-8370: Several of the downtown diner's menu items can be modified to be vegan, including the Chilaquiles and Green Goddess Bowl (puffed farro, seasonal vegetables, roasted garlic vinaigrette, spiced nut crumble, and house vegan feta cheese).