20 Electric Plate 15535 Mack Ave., Detroit; 347-570-0909: It's a pop-up, so check its Facebook page for when you'll get a chance to try the Mack Ave Mushroom Melt, the BBQ'ed Pulling Jack with barbecued jackfruit, or Somerset Street Tacos, which are one of the town's limited options for vegan Mexican food.
21 Jerusalem Pizza 26025 Greenfield Rd., Southfield; 248-552-0088: Located in Southfield, the kosher pizzeria will make any of its pies with vegan cheese, offers veggie pepperoni and sausage for toppings, cooks a vegan chicken parm, and stacks lots of vegan sandwiches. (But watch out for the egg!)
22 Inn Season Cafe 500 E. Fourth St.; Royal Oak; 248-547-7916: Chef Jenny New of Nue Kombucha calls Inn Season "the grandfather" of Detroit's vegan food community, and most of the menu is such. It also denotes dishes that are wheat, soy, and gluten free. New, a former Inn Season chef, highlights the Sunday brunch menu and the Macro Platter (brown rice, steamed kale, sea vegetable, and your choice of sautéed tofu, tempeh, or adzuki beans. Served with shiitake-miso sauce and garnished with the Brinery sauerkraut).
23 Buddy's Pizza multiple locations; 1-800-965-0505: The OG Detroit-style pizza-maker does a vegan Tuscan pizza with parsley, oregano, and garlic on a multigrain crust. It's topped with tomato basil sauce and drizzled with extra virgin olive oil. Buddy's also uses Daiya cheese, so you can build your own pie.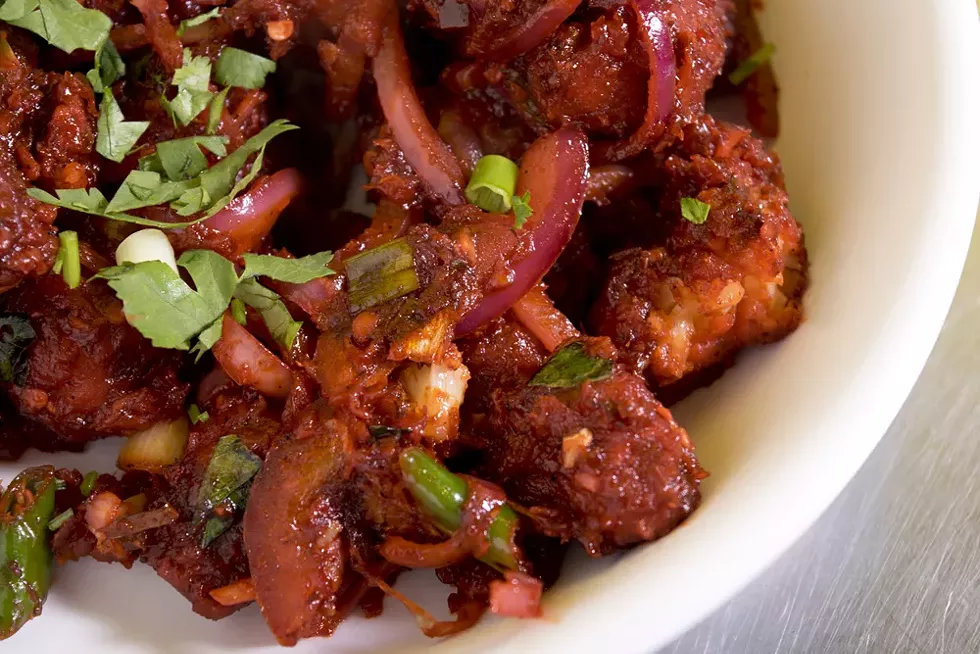 24 NeeHee's (Canton and Troy) 45656 Ford Rd., Canton; 734-737-9777: NeeHee's bills itself as vegetarian Indian street food, and its meatless menu is literally a book, so there are plenty of vegan options to choose from. We recommend the Aloo Paratha with unleavened dough stuffed with a spiced mixture of mashed potato, rolled out and cooked on a hot tawa. One of the great bummers of veganism is that chicken 65 is out of the question, but NeeHee's remedies that with its Gobi 65, a take on the dish.
25 GreenSpace 215 W. Nine Mile Rd., Ferndale; 248-206-7510: Among the latest of the area's meatless restaurants, GreenSpace is a product of esteemed vegan cardiologist Dr. Joel Kahn. Our sources suggest a wide range of favorites, including the Blackened Tempeh (cajun spice, organ­ic tem­peh, avo­cado, creamy herb dress­ing, organ­ic leaf let­tuce, lemon-vinai­gret­te dressed greens, and pick­le). The sliders could fool you into thinking they're meat. GreenSpace's menu also notes which dishes are prepared free of any cook­ing oils, coconut, nuts, avo­cado, and refined sug­ars.
26 Bonoful Sweets 12085 Conant St., Hamtramck; 313-368-8800: A good portion of the menu at the Hamtramck Bangladeshi restaurant is vegan, which shouldn't come as much of a surprise as Bangladeshis eat less meat than any other country's residents. Still, the Americanized menus are generally meat heavy, but about half of Bonoful's menu is vegan, and our sources highlight the hot and sour soup, vegetable biryani, and aloo gobi.
27 Om Cafe 23136 Woodward Ave., Ferndale; 248-548-1941: Another of the vegan and vegetarian pioneers, Om Cafe is described as a "Cheers of the vegan community." Nearly all of our sources offered suggestions, but the most common favorites are the Nori Roll (organic brown rice, umeboshi plum paste, carrot, daikon radish, and pickle, all wrapped in toasted nori — served with Om's tahini dressing for dipping, pickled ginger, and wasabi) and the tempeh reuben.
28 Avalon Multiple locations: Depending on which location you're at, you'll find vegan cookies, muffins, breads, date bars, foccacia, avocado toast, and much more.
29 Seva Multiple loctions: An old-school vegan and vegetarian favorite with dishes like the Vegan Veracruz (fried corn tortilla topped with pinto beans, Daiya "cheddar," tomatoes, green onions, guacamole, cilantro, and choice of sautéed tofu or chargrilled tempeh — served with salsa and a whole wheat tortilla).
30 Blue Nile 545 W. Nine Mile Rd., Ferndale; 248-547-6699: Another Ethiopian favorite with tons of vegan options.
31 Harmonie Garden 4704 Anthony Wayne Dr., Detroit; 313-638-2345: The Midtown Mediterranean restaurant procures a long list of vegan dishes with twists on standards like falafel and options that need minimal modifications, like the zaatar pie that should be ordered sans Syrian cheese.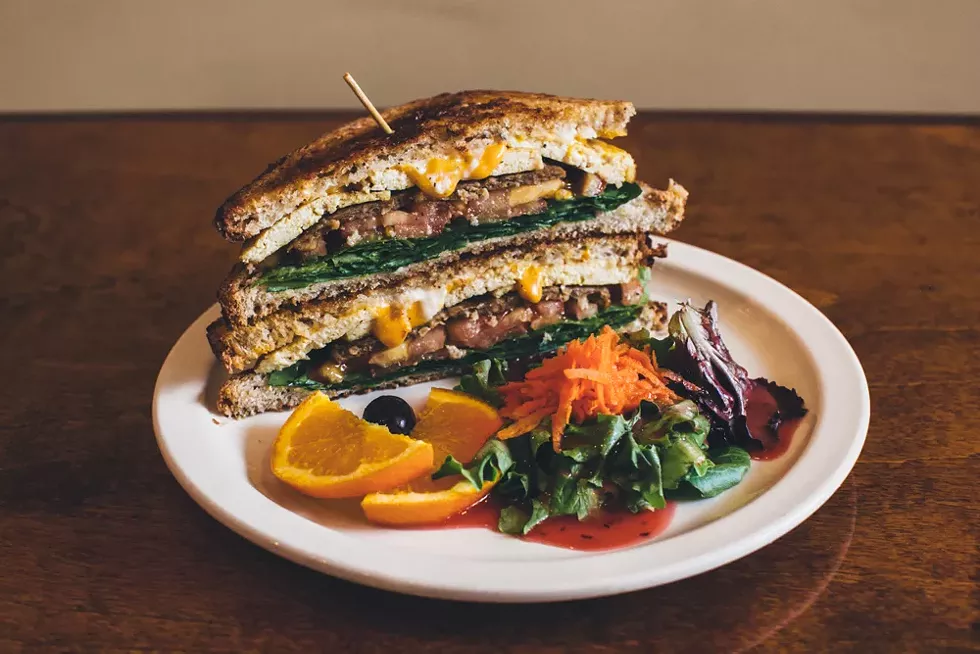 32 Living Zen Organics Cafe 3030 Casmere Ave., Hamtramck; 313-366-7738: Located in Hamtramck's Zen Center, the organic cafe serves seasonal menus with dishes like Ja-Jang-Myun.
33 Shangri-La 4710 Cass Ave., Detroit; 313-974-7669: Lots of vegan options are included on the Midtown Chinese eatery's long menu. Try the salted tofu, Incredible Hulk roll, or ma po tofu.
34 Trizest 33170 Dequindre Rd., Sterling Heights; 586-268-1450: There are lots of vegan options in what's arguably southeast Michigan's most authentic Sichuan restaurant — but watch out for any hidden fish product.
35 Earthen Jar 311 S. Fifth Ave., Ann Arbor; 734-327-9464: Over the decades, vegans and carnivores alike have gotten down with Ann Arbor's best vegan and vegetarian Indian buffet that's stocked with dishes like Hahi Korma Sabzi with a broccoli in a rich mushroom masala sauce, and a menu that denotes which options are meatless and which are not.
36 People's Food Co-op/Cafe Verde 216 N. Fourth Ave., Ann Arbor; 734-994-9174: The Food Co-op's hot and cold bar is a chance to build your own salads.
37 Anita's 22651 Woodward Ave., Ferndale; 248 548-0680: Ferndale's popular Mediterranean eatery is an easy pick for vegans with the classic Mediterranean options and some originals, like the chickpea salad with cracked wheat, fresh mint, parsley, lemon, garlic, and extra virgin olive oil dressing.
38 The Lunch Room 407 N. Fifth Ave., Ann Arbor; 734-224-8859: One of three Ann Arbor restaurants owned by Phillis Engelbert and Joel Panozzo. As of this year, the Lunch Room will be converted into a diner concept that will serve vegan takes on diner and comfort dishes for breakfast and lunch, and feel more like a neighborhood bar and ice cream parlor in the evening. Check out the Buffalo Wrap which offers buffalo sauce-coated soy curls wrapped in a tortilla with lettuce, celery, red onion, cucumber, tomato, shredded cabbage, and housemade ranch.
39 Detroit Street Filling Station 300 Detroit St., Ann Arbor; 734-224-8859: Panozzo and Engelbert's second space highlights produce grown on the Lunch Room's Belleville farm, and will hold a full bar with a "carefully curated" wine and beer selection, and craft cocktails. Here is where you'll find items like pad Thai or the Queso Burrito.