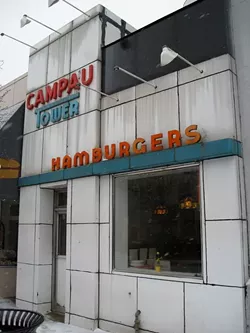 It's 2 a.m., and you're baked. You used the last drop of milk in the fridge making chocolate milk with some three-year-old syrup you found behind the mayo, and you're now eating Cheerios directly from the box. You don't really want to get up and quit watching Golden Girls reruns, but your stomach is telling you that it wants more than cereal, and you've forgotten how to heat up SpaghettiOs. What do you do? Fortunately, in the Detroit area, there are plenty of options for 24-hour dining and drive-throughs. Here are some; we're sure there are more, so don't be offended if we missed your personal pick. And remember, kids, don't drive high..
Grandy's Coney Island
1200 Holbrook St., Detroit
Want ludicrously unhealthy, wet-with-grease fried food at any hour of the day without having to leave the comfort of your car and, therefore, your Pink Floyd CD? Grandy's on Holbrook is a classic. The onion rings are known for having a stronger scent than the average onion ring, calling out to stoners like some sort of beige, aromatic food siren.
Telway Hamburgers
6820 Michigan Ave., Detroit
The coffee is less than a dollar, and you might find hookers, gang-bangers and cops brightening up the place if you hit it at just the right time, but that's not what you're looking for. Just $2.25 gets you a sack of four sliders, so $5 will probably quench that thirst for grease.
Del Taco
26111 Hoover Rd., Warren
If you're out Warren way and are hankering for some spice to complement your herb, Del Taco has a 24-hour drive-through and cheap Mexican food. Faves include the chicken soft taco and the crinkle-cut fries, but the beef burrito, drowned in cheese, is the classic. Remember though — suffering from a bout of the giggles does not excuse overt racism in the form of a bad Mexican accent when ordering.
Campau Tower
10337 Joseph Campau St., Hamtramck
Angie works nights, and she'll fry up whatever you want (within reason). The food is gloriously decadent — ask for an egg white omelet if you want to see confusion. The 24-hour breakfast is famous around Hamtown, and everything tastes great. In the dark hours, you don't have to look further than the chili cheese fries.
Duly's Place
5458 W. Vernor Hwy., Detroit
While American and Lafayette continue to battle it out for the "Best Coney" title, many people think that Duly's Place has flown under the radar and snatched the crown. The night staff will place a cherry dum-dum on an out-of-towner's first Coney, signifying the popping of the Coney cherry. You can't buy class like that, but you can get it for free at Duly's. So there you go — want Coney food as good as anywhere else, but served with a late-night chuckle? Duly's is the place.