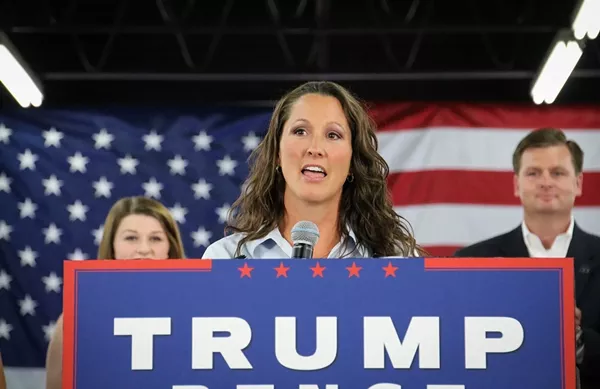 After more than a week of
teasing that he would pick a woman to be his running mate
, Republican gubernatorial nominee Bill Schuette officially announced that he picked a woman to be his running mate.
That woman is Lisa Posthumus Lyons, the Kent County clerk who served in the Michigan House of Representative and whose father Dick Posthumus is chief of staff to Gov. Rick Snyder and was lieutenant governor for former Gov. John Engler. Schuette made the announcement Wednesday morning.
It would appear that Schuette made such a fuss over her gender — teasing numerous times that "I can't tell you what her name is right now" — in an attempt to be competitive in an election cycle
stacked with a record number of female candidates
, many of whom
are energized by opposition to President Donald Trump
. Of course, Schuette is also going up against a female candidate — Democrat Gretchen Whitmer.
But the Trump calculus here is inconsistent. For one, Lyons has been a vocal critic of the president. After the infamous "grab 'em by the pussy" recordings leaked, in which Trump openly boasted about assaulting women, Lyons denounced Trump, issuing a statement saying "Donald Trump has not earned my respect or my vote." Schuette, for his part, is decidedly pro-Trump, and has received the president's endorsement.
However, in the announcement, Schuette spun Lyons as pro-Trump — posting a photo of her standing at a Trump-emblazoned podium on his campaign website. Lyons "knows that with Donald Trump as president and me as our next governor, Michigan will be a growth state with more population and bigger paychecks," Schuette wrote in a statement. "Frankly, Lisa is going to be the best lieutenant governor in the country, and together, we're going to Make Michigan Great Again."
Critics took aim at Lyons' establishment Republican ties.
"Lisa Posthumus Lyons is a Betsy DeVos hand-picked candidate, who shows once again that Bill Schuette is running for governor to put special interest donors ahead of Michigan's middle class," said Michigan Democratic Party Chair Brandon Dillon. "Lyons mocked public school teachers who were losing their jobs, and has been a part of the failed status quo in Lansing that let our roads crumble and dirty water run through our taps. Michigan families want new leadership to finally prioritize our working families — not more of the same Republican failures."
Stay on top of Detroit news and views. Sign up for our weekly issue newsletter delivered each Wednesday.