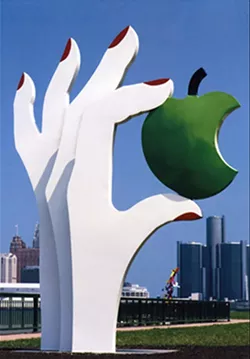 Detroit is no stranger to public art installations, nor to notable people making their mark on the city. But it is not every day that the city's art arrives from across the pond, especially from a descendant of one of the most famous leaders of the 20th century.
Edwina Sandys, though, can deliver on both points of pride in spades. Sandys, a British artist
and
sculptor, is the granddaughter of Sir Winston Churchill. She was in Detroit over the weekend to find a space for a sculpture intended for Cornerstone Schools' newest school, Adams-Young Academy.
Clark Durant, the founder of Cornerstone Schools and a Churchill Fellow,
told The Detroit News
that he envisioned a sculpture that signified education's role in reinvigorating and reviving neighborhoods. The abandoned art deco building which once housed the John R. King School is the site of the proposed Adams-Young Academy and is currently being rehabilitated.
"I would like them to walk through something," Sandys told
The Detroit News
Monday, "something that would make a sense of arriving."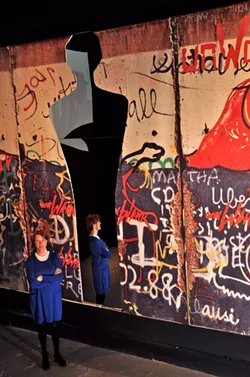 Sandys's art combines the lighthearted and playful with profound and thought-provoking ideas. For the 1979 United Nations Year of the Child, Sandys created three monumental marble sculptures. A decade later in a piece entitled "Breakthrough," Sandys carved tall male and female figures into a dismantled section of the Berlin Wall.
Breakthrough
now sits at Westminster College in Fulton, Missouri, the site where Winston Churchill warned of the brewing cold war in his famed Iron Curtain speech.
Churchill, like his granddaughter, was an artist. After a botched World War I attack, he found solace in painting, a hobby that would span five decades and produce over 550 paintings.


Lucas Maiman is a Metro Times fall editorial intern.

Stay on top of Detroit news and views. Sign up for our weekly issue newsletter delivered each Wednesday.