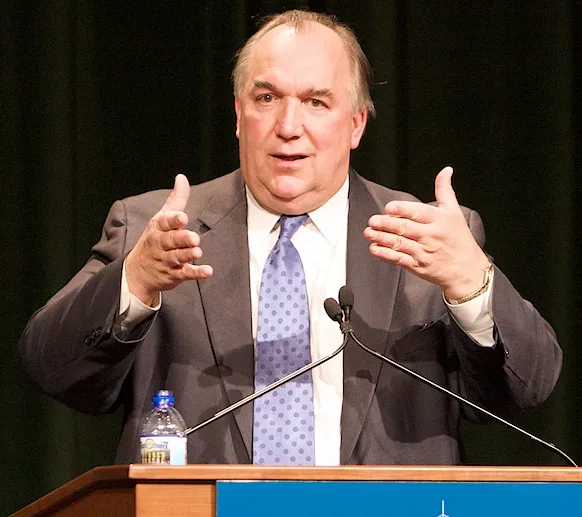 Following the revelation that 250 women and girls were sexually abused by Michigan State University sports doctor Larry Nassar, former MSU President Lou Anna Simon resigned from her post on Jan. 24.
On Jan. 30 MSU's Board of Trustees university officials appointed John Engler to take over as interim president.
That decision was met with
dismay from victims and general skepticism
. But most don't seem aware that Engler has worked against sexual abuse and rape victims in the past. While serving as Michigan's governor in the 1990s, he tried to derail legal action stemming from a massive prison sex abuse and rape scandal that involved 500 female inmates.
The United Nations eventually got involved in the situation, which resulted in multiple criminal cases and lawsuits, including one filed by U.S. Justice Department that led to a 1999 settlement.
Among other lawsuits was a class action suit filed by inmates and civil rights attorneys in 1996 — Neal v. Michigan Department of Corrections. The state fought it for 13 years before settling for $100 million in 2009. Beyond that, 32 male guards were ultimately convicted of criminal offenses and "scores" escaped punishment, attorneys say.
In an
interview with Insider Exclusive
,
civil rights attorney Michael Pitt, one of the lead attorneys in Neal v. MDOC, said that "prisoners lived in an environment of torture."
Pitt told
IE
that one of
his 17-year-old clients found upon incarceration that "young, attractive women [had to] submit sexually to the guards. [Inmates] were the victim of rapes and sexual assaults."
The state filed motions to have the case dismissed on legal grounds, immunities, and argued that state civil rights law didn't apply to inmates, Pitt told
IE
.
It ultimately took the latter argument one step further when Engler and the Michigan Legislature changed the law by amending the Michigan Civil Rights statute to prohibit incarcerated women from bringing sexual harassment complaints, Pitt said.
In a March 15, 2000 article,
Prison Legal News
reported that media coverage prompted Engler and the Legislature to try to change the law. The stated purpose of the new law — signed by Engler — was to defeat the victims in court.
Attorneys say it's worth noting that then-Michigan Attorney General Jennifer Granholm approved of the rule at the time.
Bridge
reports that a federal court found the law unconstitutional in 2007, paving the way for the $100 million settlement.
Bridge
also reports that in 1995 the Justice Department sent a letter to Engler stating: "Evidence in the public domain reflects that a number of guards have been investigated by Michigan State Police for allegedly sexually assaulting or raping women inmates at these facilities.
"Indeed, a number of officers have been charged with at least fourth degree criminal sexual assault… Discovery in a private civil action alleging sexual abuse by guards of women at these prisons indicates that between 1991 and 1993, at least 20 incidents of sexual assault or serious harassment have been reported."
Still, Engler assisted the state in fighting cases filed against it. In a 1999 settlement with the Justice Department, male guards were ordered out of women's prisons.
In a statement to
Metro Times,
Lonnie Scott, director of the progressive think tank Progress Michigan, called the decision to hire Engler "about as thoughtless and backward as they come."
"Engler is a highly partisan choice considering he's endorsed Bill Schuette for governor, on top of the fact that Schuette's office is supposed to be investigating MSU," he says. "Engler's legacy on public education and protecting vulnerable people from sexual abuse is highly troubling — including a refusal to allow the U.S. Department of Justice access to state prisons to investigate violations of the civil rights of female inmates.
"Engler failed to protect those inmates, how can we expect him to protect members of the MSU community and restore trust in this institution?"
Prison Legal News
also reported factual claims of the Neal V. MDOC lawsuit:
Beyond the settlement, a 2008 jury
awarded 10 female inmates $15.5 million for abuse
they suffered at the hands of male staff at Plymouth's Scott Correctional Facility. Another jury awarded more than $8 million to female inmates at another facility.