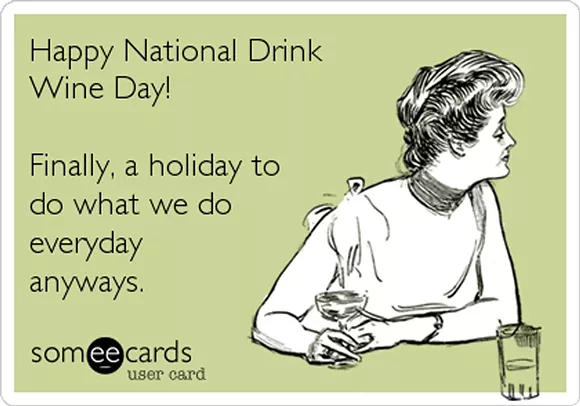 ***DISCLAIMER: We do not encourage the consumption of alcoholic beverages at the workplace. What follows is a [greatly exaggerated] first-hand account based on true events. No one was harmed during this piece, we are professionals after all.

9:00am
"Did you know it's National Drink Wine Day?"

The words echoed out like a chorus of angels. Could this be true? Tell us, could this be real? How can we put into words how we feel? We weren't sure, but we were gonna try.
Always on top of things, a staff writer is already on their way out the door, their destination undoubtedly the nearby 7-11. While they're gone, we begin the task of coming up with an appropriate title for our homage to National Drink Wine Day because after all, if we don't write about it, it didn't happen. We quickly rule out "Our quest to celebrate National Drink Wine Day" because BOOOOORING, and briefly debate the merits of "We celebrated National Wine Day so you don't have to." Finally, we settle on the words that made you click on this story.
9:21am
Staff writer returns, a bottle of Gato Negro Cabernet Shiraz (and a package of double-stuffed Oreos) in hand. We grab a few coffee cups from the office kitchen and get ready to put in some work.
9:23am
Selfies with said bottle of wine and coffee cups.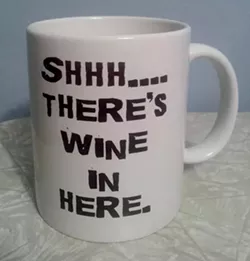 9:25am

Package of double-stuffed Oreos is opened.




10:40am

Everything on the Internet starts to become more amusing. "Future's coming back to Detroit tomorrow?! Hell yeah, stripper Instagrams are SO GOOD when Future's in town!" someone exclaims excitedly, causing some other poor soul to ask "Who's Future?"




10:43am

Staffers explain the cultural significance of Future, pour more wine.




10:45am

Staffer writes blog post about Future. Asks for suggestions on Facebook status for article.

"The Future is now, but not really, it's actually tomorrow" causes an unreasonable amount of laughter amongst staff, but we stick with it.




11:01am

One staffer realizes coffee and wine don't mix and excuses themselves to the bathroom.




11:17am

Staffer returns from bathroom, ending National Drink Wine Day festivities for themselves.




11:30am

We convince a member of the sales department to make another wine trip for us by saying we'll share. They always fall for this trick. Double-stuffed Oreos and our dignity is still in tact.




12:05pm

We use said Oreos to quell the grumblings of our stomachs and rejoice when the sales rep returns. We then learn they're carrying an economy-size bottle of Peach Moscato and rejoice a bit less. We rinse out our mugs and pledge to continue our celebratoins. Talk about true dedication to a story.




1:20pm

An impromptu Fetty Wap listening/karaoke party begins. "Trap Queen" blares from someone's laptop. Cue discussion on Fetty Wap, who will also be in town on Friday, and wehether or not he's a leading contemporary voice for feminism, which ends the conversation because feminism is just like, wayyyy too heavy for National Wine Drinking Day.




1:25pm

We cheers to feminism. Over and over and over again.




2:33pm

The typos are real. Yes, we know. No, we don't care. We're drunk.




3:27pm

"How do you spell significance?" - actual question asked by staffer.




3:28pm

"WHO CARES?" interjects a senior staff writer who is spinning another staffer around in their chair.




3:29PM

Senior staffer yells "I'M THE CAPTAIN NOW!" and members of other departments begin to walk over and show concern.




3:30PM

We face our computers and all simultaneously pull up Google Analytics. "Your lips are purple," a member of production points out. We've always admired their attention to detail.




3:45pm

More spelling questions are asked.




3:48pm

The final drops of Moscato are poured and everyone begins to ask, "Is it hot in here? No, like really really hot?"




3:49pm

We go outside.




3:51pm

Someone pukes.




3:52pm

The FedEX guy comes and we try to ignore the steaming pile of Oreo vomit that almost made it into the bushes.




3:53pm

Someone notices a LinkedIN notification on their phone and reminds the group, "Um, hey, we're at work."




3:54pm

We begin to dance and sing Rihanna and Drake's "Work" in a circle outside the office front doors. Someone notices the FedEX guy is now trying to exit the buildling. We part the seas and let him through, bidding him a "Happy Nasssshional Wine Day, BAE!"




3:55pm

More Oreos are consumed. So manyy OREOS.




3:58pm

On the way to the kitchen to dispose of our wine-stained mugs, someone drops a cup, prompting the nearby receptionist to come over and ask us if everything's ok. We ask her if she knows who Future is and if she'll be our Trap Queen, to which she responds: Go home, guys. You're drunk. She may or may not be used to this.




4:00pm

We take her advice, as always, and call an Uber, but not before hitting Publish on this blog post. Hapy National Drunk Wine Day. We're gonna go lay down.