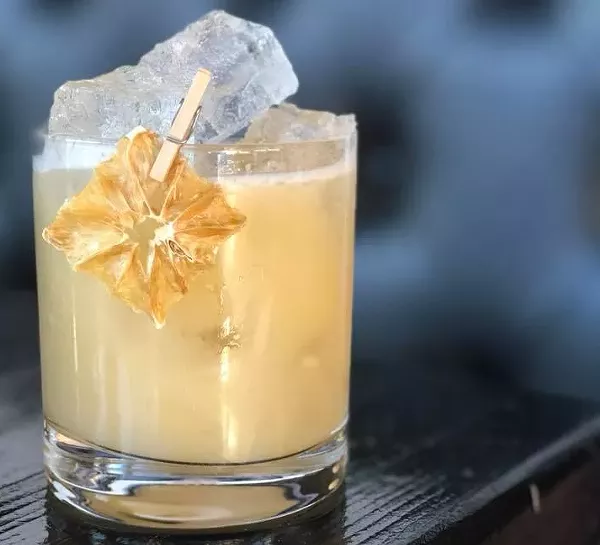 The Upper Midwest is a cold, bleak place in January. The holidays are done, the waves of arctic weather are beating down on Detroit, and the first signs of warm spring weather are still months off. How does one make it through the Rust Belt's mid-winter slog? Booze, of course. We spoke with some of the city's finest mixologists, brewers, and wine sellers about their best recipes for beating the wintertime blues. Here's what they shared with us.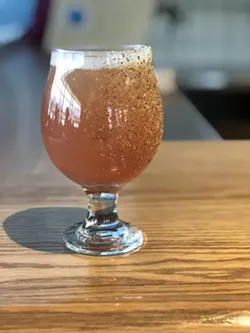 Axle Brewing Co.'s "Beertails" are hybrid beer-cocktails with craft beer and unique ingredients served up at its Livernois Tap in Ferndale. One example is the Sweater Weather, made with Noble Ghost hopped blonde ale with pomegranate, lemon, and a pink peppercorn and matcha sugar rim.
Joe Muer's Nutty Night is made with Bird Dog Apple Whiskey, Port Wine, and dashes of black walnut bitters, and is garnished with cinnamon and sugar apple.
Jolly Pumpkin's Madrugada Obscura is a dark dawn sour described as a "roasty, malty stout" that the Dexter-based brewer only produces for the winter months. It's a dark and slightly sour beer, but a little more full-bodied than Jolly Pumpkin's other offerings.

Bumbo's Hat & Beard Hamtramck is a little grayer than the rest in winter, but its cocktails are a little better. Try the Monkey Shoulder (blended Scotch) Fernet Branca, cinnamon simple, and apple juice.

Grey Ghost's Man on the Moon cocktail is made with rye, yellow chartreuse, sesame, pineapple, and lemon. Bartender Will Lee explains that the idea is to offer a drink that is "savory, refreshing, and tiki. Flavor profiles that you normally don't see in the same glass, all the while keeping it seasonal in as many senses as possible. I set out to put together a combination of flavors that are common and familiar, but not always married together in a way like this."
The Morrie's Fireside Mojito is a wintertime take on a summertime favorite and is made with pear-infused Captain Morgan's Vanilla, mint, and lime.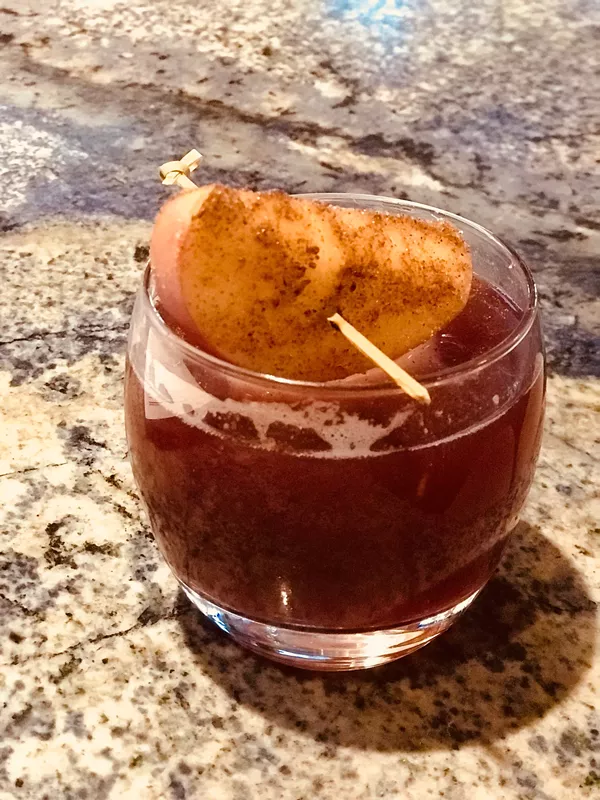 The Corner's Apples to Apples holds some of the flavors that just work so well in the cold weather. It's made with Hayman's London dry gin, Becherovka, caramel, apple juice, and lemon.
The Painted Lady's hot toddys are a standard combination of hot whiskey, water, lemon, and honey, but it's far more interesting here because you get to choose from 90 different varieties of whiskey.
The Oakland's Blue Blazer holds the spirit-forward proportions of an old fashioned, and uses cask-strength Redbreast, an age-dated single-pot Irish whiskey with a nice mouthfeel. It is then mixed with hot tea and lit on fire, then poured back and forth. The finished glass of hot punch is garnished with a lemon peel cut with angles as square as a fine piece of sashimi.
Les Lunes Zinfandel at Western Market is for you wine-lovers out there. As Western Market's Putnam Weekley explains, "No one guesses this is Zinfandel — it's too ruby, and it has that natural wine aroma more commonly associated with Pinot Noir or Gamay." There is no sense of oak flavor, he adds, and he highlights the pomegranate and cranberry candy notes. The wine is dry farmed and wild yeast fermented.
Painted Lady's Henrietta is a coffee and bourbon drink comprised of Buffalo Trace Bourbon Cream, Buffalo Trace bourbon, and cold brew from Hamtramck's soon-to-open Henrietta House.
The Morrie's Baby, It's Cold Outside is a creamy, peppermint martini made with Stoli Vanilla, Godiva White, Peppermint Schnapps, Marshmallow, and a candy cane rim.
Jolly Pumpkin Noel de Calabaza is a special ale that's sour, malty, and layered with figs, hops, raisins, and sugar plums, and is nine percent ABV. It's for those of you not quite ready to leave the holidays behind.
Joe Muer's ZIM's Winter Wonderland uses pumpkin, which is a go-to for beating the chills, as well as ZIM's Polish Potato Vodka, Kahlua Pumpkin Spice Liqueur, and Rumchata.
CAYA Smokehouse's Breakfast Manhattan is served with bacon-infused Bulleit Bourbon, smoked maple syrup, and bitters in a rocks glass over ice that's garnished with a slice of cooked bacon.

Oude Gueuze Tilquin À l'ancienne beer at Western Market is worth a look as well. As Western Market's Jarred Gild explains, "Tilquin is not actually a brewery. It is an esteemed gueuze blendery, where they take freshly brewed wort from various regional producers and age them in wood to create its distinct lambic funk. Brewers then blend 1-, 2-, and 3-year old lambics and further age them in bottle to make a tangy, exotic elixir."