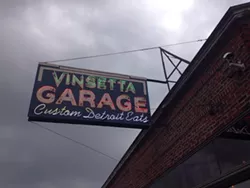 Plans for a Birmingham bistro proposed by Vinsetta Garage owner Curt Catallo are no more.
According to the
Free Press
, Catallo withdrew his plans for the Lincoln Yard bistro in the Birmingham Rail District over issues with a liquor license he sought for the project.
He had applied for a bistro license that allows restaurants to obtain a Class C liquor license from the state, but it comes with requirements in terms of size and operation. The city wanted Catallo to scale back the number of seats he proposed, but he said the math didn't work with less seating.
Birmingham has two licenses available. One will go to a new Whole Foods that's proposed for East Maple Road, and another will go to Adachi, a bistro planned for the Ford Peabody Mansion on South Old Woodward.