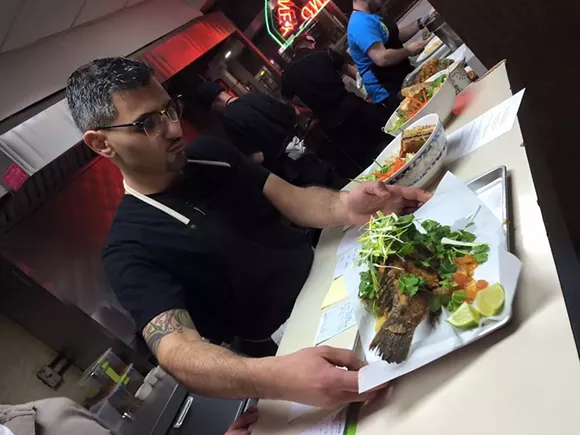 Each Sunday, after Vernor Coney Island in southwest Detroit is done slinging coneys and omelets, the old school diner is transformed into a Vietnamese supper club of sorts. For the past few weeks, the smells of pho, cilantro, and fried snapper have replaced those of hash browns and burgers as part of the Flowers of Vietnam pop-up.
Behind Flowers is southwest Detroit native Chef George Azar, and he says the weekly dinners are just the start. His end goal is to open a stand-alone restaurant next door to Vernor, to serve as an alternative for folks in the neighborhood who may be put off by the trendy, high-end restaurants cropping up in other parts of town, but who are no less interested in adventurous cuisine.
"I realized that everyone was going after the same market," Azar tells us.
Azar says he recently returned to his hometown after working stints at three-star Michelin-rated Alinea in Chicago, the award-winning Bouchon in Las Vegas, and elsewhere. His father purchased the building that houses Vernor. While Azar works to build out his permanent space, the coney does the trick to slowly attract interest (the diner closes daily at 2 p.m.).
The spot - which features traditional dishes like pho, Ca Chien Sot Ca (fried fish or tofu with tomato sauce), and Bun Thit Nuong (a cold rice vermicelli noodle dish topped with meat) - is staffed by chef de cuisine Thomas Kuderick and sous chef Joey Villareal. Front of the house is taken care of by Ben Saginaw, music artist Shigeto DJ's, and Nelson Kazan of Republic has been helping to develop a beverage program for once Azar acquires a liquor license.
The pop-up comes at an interesting time for this section of Detroit. As neighboring Corktown is increasingly becoming saturated with new dining and drinking establishments, restaurateurs have taken renewed interest in southwest - traditionally known as a hub for old-school Mexican food. At the same time, longtime residents have been growing concerned that the neighborhood
become overly gentrified.
Azar says he's well aware of such concerns and insists he wants to steer clear of opening a cliché, overpriced "fusion" restaurant. "That word makes me cringe," he tells us.
Most dishes can be had for $6-$14, though the snapper goes for $27. Azar hopes to host dinners at Vernor on a near-nightly basis, but for now Flowers is held between 7 p.m. and midnight Sundays (he'll close for Super Bowl Sunday). Vernor/Flowers can be found at 4430 Vernor Highway.