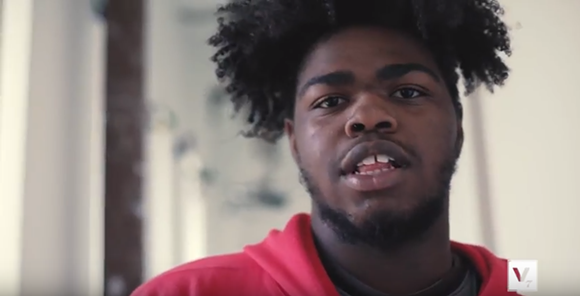 Kahn Santori Davison's
informative article
for us this week on the hip-hop collective Creative Minds Coalition had us thinking about other collaborative groups in the city.
And lo and behold, without even asking we were introduced to Brendan Asante, a solo artist who heads a collective in Detroit called
Video7
. "We make and release music together and as solo artists." They also put on collaborative events around the city "as a way to bring people together." The main one right now is called ProducerHaus: Detroit.
The next one is this Sunday, March 19, and it will last all day, approximately from 10 a.m.-10 p.m., at High Bias Recordings. This is a studio process, and is not open to the public, but plans are in the works to open it up a bit at a later date, and currently they are documenting both the process and the final results.
"It's a closed event right now," Asante says. "Only the eight selected producers come to the studio to create for each ProducerHaus. We have an application that we post for people from the city to apply at
www.producer.haus
. It is closed now but will open back up when we do ProducerHaus: Detroit | 004."
"Basically, it's like producer 'telephone,'" Asante explains. "Eight different producers from the city are selected to come session at High Bias Recordings in Corktown. They're split into four teams of two, with the goal being that they're paired with someone they haven't worked with before."
"After I announce the theme for the day, each team starts working on an idea in two hour blocks — 90 minutes of creating, 30 minutes of exporting the different stems to their idea to a hard drive. After the two hours is up, the hard drives rotate, so each team picks up where the team behind them left off. We repeat this process four times, and end up with four tracks touched by eight different producers. We also allow vocalists and instrumentalists to apply as possible add-ins to the overall process."
The process reminds us a little bit of the Surrealist creative technique known as the "
exquisite corpse
," whereby "each collaborator adds to a composition in sequence, either by following a rule, or by being allowed to see only the end of what the previous person contributed," to quote Wikipedia.
To keep up with ProducerHaus, follow via Facebook (
https://www.facebook.com/producerhaus
), Twitter (
www.twitter.com/producerhaus
), and Instagram (
instagram.com/Video7_
)