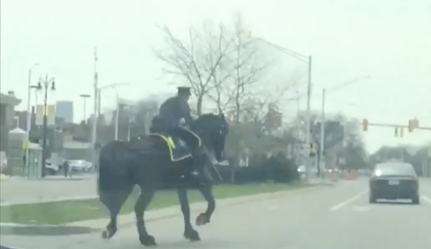 Technology, tradition, and justice collided in late April, providing an answer to the age-old question: Can horse cops pull people over?

The answer is, oh hell yes they can.

Officer Brandon Murphy of the Wayne State University Police Department and Detroit Police's mounted unit was cruising the WSU campus upon his faithful steed Remy when he apparently noticed a whole mess of traffic violations going down.

"I noticed the driver was texting with her right hand, steering with her left hand, and no seat belt," Murphy tells WXYZ news.

In a video captured by WSU nursing student Sam Farrah (@Sammi_Farrah12), Murphy and Remy gallop into action, cutting across three lanes of traffic to pull over the distracted driver who, undoubtedly had a WTF moment as she looked in her rearview mirror.

"Number one, they are confused because it's a horse but it's usually a shock," Murphy says. "Oh aww. I can't believe I'm getting pulled over by a cop on a horse."

Of course, the Twittersphere had some thoughts.


My ass would just speed up to 30 and yuh. Sorry officer I didn't see you. Maybe your horse needs lights and a siren.

— kxxxchoke soundcloud (@xxxchoke) May 1, 2018
Lol you could easily merge onto the lodge and be GONE.

But Nah... you already know WSU police roll deep. All my mans had to do was whistle.

— Dylan (@TheRealDylanDon) May 1, 2018
"No one is stopping for that," a girl scoffs in the video, which has since gone viral with over 50,000 views and hundreds of shares, including one by The Weather Channel for some damn reason. But the driver
did
stop and was ticketed. Murphy says the texting perp was laughing when he approached the window.
Watch the video below and remember — horse cops are really high up. They can see all the nefarious shit you're doing.
You know you've been Wayne Stated when you've been pulled over by a cop on horse 🤷🏽‍♀️🐎 pic.twitter.com/ZZNHQOsjmm

— sam (@Sammi_Farrah12) April 28, 2018

Stay on top of Detroit news and views. Sign up for our weekly issue newsletter delivered each Wednesday.