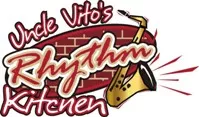 Take E.C Row expressway west. Stay on this route through Lasalle and into Amherstburg, turn right on Richmond Street in downtown Amherstburg
Parking: Ample parking available
Uncle Vito's Rhythm Kitchen is located in Downtown Amherstburg, Ontario, within walking distance of the water. According to the folks at Uncle Vito's: "Whether you're looking for a quick lunch during the work week or interested in bringing the whole family for food and fun, Uncle's Vito's has it all.