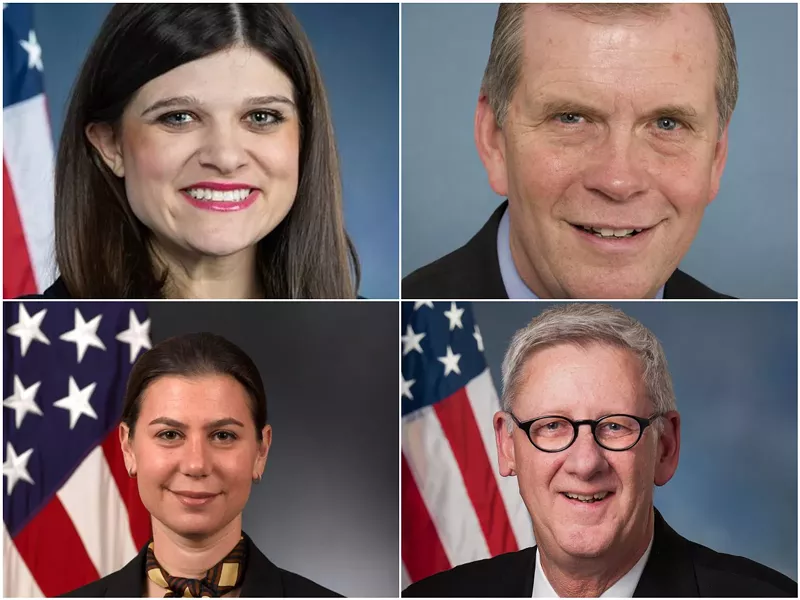 Call them what you will — migrant detention camps,
concentration camps
, internment centers. Regardless, the conditions are undeniably awful. Kids are dying and being denied medical treatment. The Trump administration deosn't want
to give kids toothbrushes
, soap, or other items for basic hygiene. Many sleep on the floor, lice infestations are common, and the Trump administration is responsible for the kind of
human misery
that's only created by history's most awful governments.
What kind of politician would vote to keep that nightmare funded? Turns out there's bipartisan support for it. Some Michigan Democrats joined all Republicans yesterday in passing a $4.6 billion emergency funding bill for the Border Patrol. A chunk of that money will go to Immigration and Customs Enforcement (ICE), and will help keep the camps open.
Here's how Michigan's U.S. Representatives
voted
:
Yes
Haley Stevens (D)
Elissa Slotkin (D)
Dan Kildee (D)
Jack Bergman (R)
Bill Huizenga (R)
John Moolenaar (R)
Fred Upton (R)
Tim Walberg (R)
Paul Mitchell (R)
No

Justin Amash (R)
Debbie Dingell (D)
Brenda Lawrence (D)
Andy Levin (D)
Rashida Tlaib (D)
Democratic Senators Debbie Stabenow and Gary Peters
supported the legislation
in the Senate.
Updated 2:15 p.m. Wednesday, July 3:
Rep. Slotkin issued a statement explaining that she voted yes on the bill to provide basic necessities for the detained migrant children.
She says:
"The images in the media from the southern border confirm what we already know: that large numbers of people are coming over the border and migrant families are being held in shameful, inhumane conditions," Slotkin said.

"Last week, I voted for two supplemental funding bills with money to provide, among other things, for the basic necessities detained migrant children have been denied. The House bill, which I voted for, was the stronger bill. The Senate passed its own, separate bill, 84 to 8. Unfortunately, Senate Majority Leader Mitch McConnell refused to even consider the House's version.

When the Senate's bill came to the House for a vote, many of my colleagues voted against it due to fears over its lack of oversight measures. I understand and respect those concerns. However, I felt that we simply could not let the funding for these migrant children run out in early July, as it would have without a bill passed. What is happening at our border required an immediate response, in my view, and while the Senate's bill was not as strong as I wanted, I felt it was important to start moving money to the border as soon as possible, and so I voted in support. I will work with my colleagues on the Homeland Security Committee to ensure the money is spent as it was intended.

I also will be traveling to our southern border as part of a bipartisan delegation later this month to see the conditions there for myself. Many people in my district feel passionately about protecting our borders. I strongly believe in border security, and I believe that our immigration system is broken and requires a major overhaul. But let me be clear: There is no rationale that excuses how our government is treating the migrants, in particular the migrant children, currently in its care. We must do better.

Finally, I am deeply troubled by the reports of the behavior by some of our border officers toward migrants, as well as toward some of my House colleagues. Any official paid by taxpayer dollars is bound by a code of conduct and is subject to the Hatch Act, which prohibits any political activity or overt political bias in a workplace setting. I expect leadership at Customs and Border Patrol to not only condemn any misconduct, but to hold accountable any officers engaging in inappropriate behavior."
(A previous version of this article erroneously described Justin Amash and Debbie Dingell as voting yes. In fact, they voted no.)
Stay on top of Detroit news and views. Sign up for our weekly issue newsletter delivered each Wednesday.