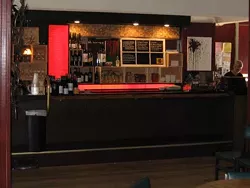 When we last visited Motor City Wine several years ago, it was up above Woodward Avenue, in a second-floor space above Foran's Grand Trunk Bar in downtown Detroit. Mostly overseen by husband-and-wife team David and Melissa Armin-Parcells, the small space served as a tasting room and sales floor, some nights given over to live music for tastings.
How times change! A warm fall afternoon finds us dropping in at Motor City Wine once more, at its new location on Michigan Avenue. Compared to the couple's old spot, this place is outsized. On this particular day, last-minute tweaks are the order of business, as the staff gets ready for Dine Drink Detroit, which will bring busloads of deal-seeking diners to their door. Two 20-year-old trees, donated by Phil Cooley of Slows Bar-B-Q, are being planted in the adjoining fenced-in space outdoors. This giant "patio" is actually larger than the building itself. The couple plans to build raised flower beds using reclaimed bottles, a bocce court and even a fire pit. What's more, they own the gravel parking lot across the alley as well. All told, it's actually a half-acre, quite a far cry from the duo's old roost.
They own the building outright, built it mostly by themselves with what they could borrow, beg or barter. The space used to be the Express Bar, and, to hear David and Melissa tell it, it was the kind of place where the jukebox scratched to a halt when newcomers walked in the door. It's much more inviting now, with the interior fully redone, and the neighborhood on the cusp of momentous change.
The two of them catalogue changes past and present. A new restaurant, Rubbed, is going in on the next block, Bucharest Grill is relocating down the street, the Two James distillery is opening nearby, a fish and chips joint is planned across the street, a bit further away are Brooklyn Local and the nascent Detroit Institute of Bagels. Wait, did they forget the White Castle, a fixture across the avenue?
"Hey," Melissa objects with a smile, "we love White Castle. At this point, we know every person who works there!"
Talking to these two, you get the sense they chose this spot precisely because it's in the midst of this budding food culture that goes so well with a glass of vino. They're so plugged in that Phil Cooley has offered a deal where hopeful Slows diners can sweat out the requisite two- to three-hour waits for a table at the couple's bar.
As for serving food at the bar, the menu is light, mostly because David and Melissa would rather focus on their core business than invest in a commercial kitchen. But they're so engaged with the emerging food culture around them that they even plan to have rotating pop-up meals on Sundays. Melissa says, "It's been a really perfect little fit for us, to be part of this underground food scene that's having this resurgence right now."
When it comes to wine, David and Melissa's philosophy remains the same: inexpensive individual pours that start at $5 a glass and seldom are higher than $9, and bottles that are good values, usually retailing at $15 and no more than $50. You'll find no grocery store wine here; instead, it comes from small producers, with an emphasis on natural, organic and biodynamic wines.
Don't know what all that means? No problem. David, a Montreal-born sommelier who spent a decade as a buyer for Whole Foods, is ready to explain as much or as little as you like. As he uncorks a red for a taste, we ask him if it shouldn't air out a bit before we quaff it. With desert-dry humor he says he doesn't stand on such ceremony, slapping his fingers on the base of the glass and swirling the wine so fast it almost climbs out of the vessel. Melissa adds that this red tastes better cold -- out of a juice glass no less!
David puts it this way: Motor City Wine focuses on wines that are "exciting," wines that represent a backlash against the acceptable but boring "industrial swill" cranked out by giant corporate conglomerates. Instead, David ferrets out wines from small vineyards, ranging from creative New World wineries to winemakers whose products and processes hark back to Roman or medieval winemaking.
David says statistics prove that it's finally a good time for wine in the United States, as Americans aren't drinking mostly beer anymore. "I think the craft beer thing has something to do with it, people graduating to higher-end beers. Once you start experimenting with that, you'll start experimenting with other stuff, and wine is one of those things that just gets more interesting the more you get into it."
That said, their new place has plenty of cooler space, so they've expanded their beer selection to almost two-dozen bottles. They also have a license for a full bar, and plan to have a selection of the more basic spirits on hand soon, but mostly whiskeys for "sippers."
As fans of the old space know, Motor City Wine has long enjoyed mixing music and wine, and the Michigan Avenue location has room for musicians to spread out. Oenophiles can expect live, jazz-based performances starting at 9 p.m. Wednesdays through Fridays, with appearances from Dennis Coffey once a month. Other nights will feature DJs and more.
Service at Motor City is strictly casual, as the owners want people to come up to the bar, talk about the wine, or just chat about anything, getting special attention while meeting new friends at their elbows. To David and Melissa, that's what a neighborhood spot is all about: enjoying the pleasure of meeting other people and sharing their company, talking about wine and everything else.
"You'll notice we don't have a TV," David says. In the midst of a tight baseball playoff week? "Yeah, we've been getting calls all week asking if we'll have the game on, so it kind of sucks during Tigers playoffs, but in the long run it's worth it."
Ultimately, what they aspire to is to be a good neighborhood bar. Instead of investing a great deal of money into a space that's overdesigned and perhaps intimidating, Melissa points out the used corks decorating the wall or the handmade signs framed by old windows, proud of their "shabby chic." As the organic process of, say, decorating the ceiling with corks goes on (they estimate it will take more than 150,000 corks to cover it), "local people get to watch the place being slowly built up."
Melissa says, "We had a lot of longtime customers follow us to our new location, but now we have this whole new neighborhood of customers. It's so great to see this eclectic crowd where some young hipster and a senior citizen are drinking wine together and talking about visiting France. That's terrific!"
Michael Jackman is managing editor of Metro Times. Send comments to [email protected]