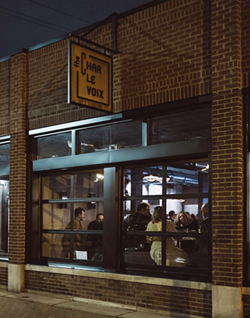 Grosse Pointe Park has
a new addition
in the Charlevoix, a fusion, finger-food restaurant and craft cocktail bar just around the corner from Atwater in the Park.
The menu references a range of the world's cuisines, with dishes like brisket-kimchi tacos; house duck pastrami with pickled onion and marinated mustard seed on rye; a carrot tostada with labneh, pecorino Romano, za'atar, and lemon zest;
po
' boys; and four types of wings, like salt and vinegar.
Behind the bar are a range of craft and major label beers, wines, and cocktails like the Root Down with cucumber and dill-infused gin, ancho
verde
, beet and carrot shrub, and lime.
The Charlevoix is at 14927 Charlevoix St. in Grosse Pointe Park.
So many restaurants, so little time. Find out the latest Detroit dining news with our weekly food newsletter delivered every Friday morning.