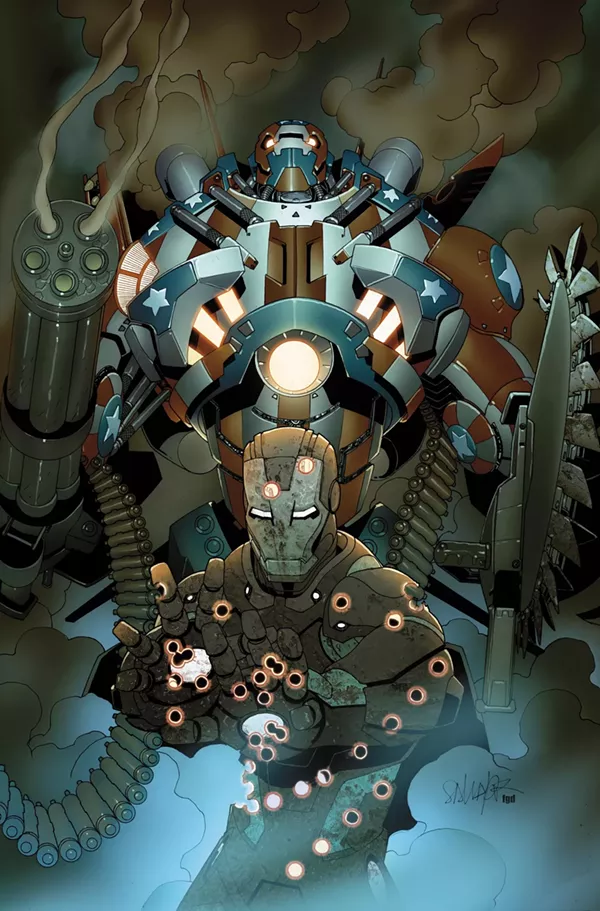 Detroit Steel
Hopefully this tank of a character will appear in a Marvel Universe movie at some point. Created by Hammer Industries to rival Iron Man, Detroit Steel is an armored corporate mercenary. His armor will change color depending on who he's working for. Morally, maybe not the representative for the city that we want, but he still looks great.
Firebrand
DC might have a Detroiter called Firestorm, but Marvel has a Detroiter called Firebrand. Gary Gilbert was originally a campaigner for good, fighting the good fight, but alcoholism led him to change sides and become a "supervillain enforcer." He has punched it out with the Punisher on a few occasions, and he always loses.
Firestorm
Like Green Lantern and Deathlok, there have been a few different Firestorms over the years. It's the Jason Rusch version who is from Detroit – a 17-year-old who found himself gifted with the powers of the firestorm matrix. He's a sort of nuclear man with a fiery head. The current version of the character has Rusch and original Firestorm Ronnie Raymond inhabiting the same Firestorm body.
John Stewart
The Green Lantern Corp has had many members over the years, and more than a few from Earth, even if Hal Jordon is the man closely associated with the name. John Stewart is an oft-underrated Lantern; a badass Detroit marine who started out as Jordan's standby but was eventually promoted to the position of Earth's number one representative.
Vibe / Justice League Detroit
For a short while in the '80s, Aquaman threw Superman, Batman, Wonder Woman, etc, out of the Justice League of America, moved it to Detroit and filled it out with lesser-known characters like Steel, Gypsy and Detroit's own Vibe. Vibe was a street-kid who gained the ability to vibrate things. For a long time, he was considered a joke character, until very recently when DC made the courageous decision to relaunch him. Now, he's the Detroit tough-nut that the city deserves. Oh, and he's back in the JLA.
Lady Shiva
This girl is tough. Lady Shiva, real name Sandra Woosan, was born in a shanty town and trained by the League of Assassins to be a master martial artist. She decided to place herself in Detroit, alongside her sister, where she believes she'll have ample opportunity to practice her fighting. Fair enough. She later made her way to Gotham, but we're betting that was a picnic by comparison.
Eric Draven
Draven is often referred to as The Crow, despite the fact that the crow of the title refers to the bird which ushers people to and from death. Draven was always Draven, the creation of Detroiter James O'Barr who is left in a sort of revenge-induced limbo after his future bride is slaughtered by a slum lord's heavies. We are never told outright that Draven is in Detroit, but we just know. Shit goes down on Devil's Night, for Christ's sake.
Crowbar
Supervillain Crowbar is actually Malcolm Tandy, a Detroit gang member who liked to rough people up with his namesake weapon. When the Overmaster (cosmic badass) infused Crowbar's crowbar with energy, Tandy became a thorn in the Justice League's side.
Deathlok
There have been a couple of different Deathlok's over the years but it's the first one, Luther Manning, who was an American soldier from Detroit. The creation of Detroiter Rich Buckler, Manning was fatally wounded at war and reanimated in the future as the cyborg Deathlok. If that sounds a little like the Robocop storyline, well, that's because it is.
Demolition Man
Looking like a weird cross between Daredevil and Wolverine, Demolition Man, aka Dennis Dunphy, was a pro wrestler in the Marvel Universe before being given powers by the Power Broker process. He decides to give up wrestling (even though he could have been a champ with his new powers) and train with Captain America. He looks like a bit of a hotch-potch but he's an all-round good guy.