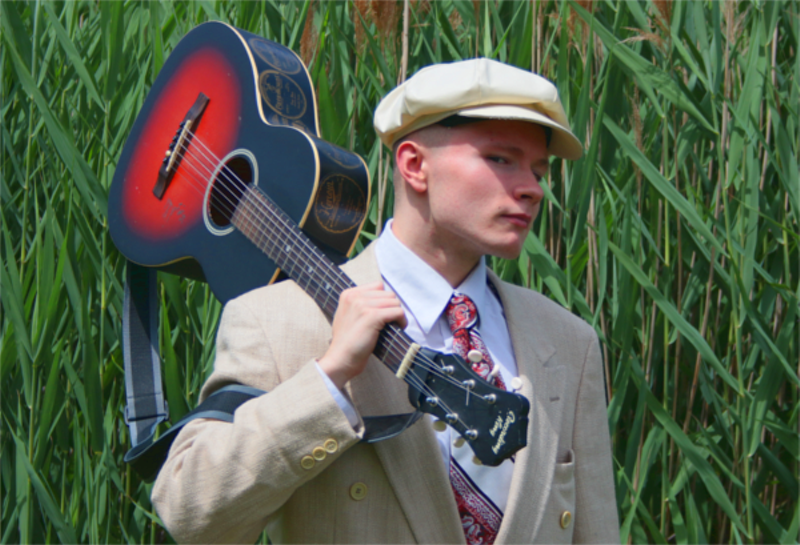 Fans of the blues may want to take special notice of an upcoming live gig by an up-and-coming adherent of the style. And when we say "up-and-coming," we mean it.
We're talking about 17-year-old Creighton Wodarski, who plays at PJ's Lager House this weekend. The youngster from Wayne says he was a toddler when he first heard the blues. "My grandfather Callahan turned me onto Howlin' Wolf, Robert Johnson, and Muddy Waters," he says, "and I've loved it ever since. "
At the age of 12, Wodarski received his great-aunt's guitar and began teaching himself Charley Patton's
"Banty Rooster Blues"
– by watching a YouTube video, of course. Then down the rabbit
hole
he went.
"I started to watch and listen to the masters and learn their craft," he says. "I taught myself, and keep on trying to learn more and more every day on the guitar."
These days, you could probably count on your knuckles how many teenagers claim such idols as Muddy Waters, Blind Blake, John Lee Hooker, and Son House. "Son House had this raw sound of the Mississippi Delta Blues that raised hairs on my chest, and I loved how he projected his voice," Wodarski tells us. "I could name so many more but all have inspired and touched me."
Wodarski's musical tastes go beyond blues and comprise jazz, ragtime,
rockabilly
, swing, folk, old country, and even classical music, but the blues has become his obsession. He calls it "a sacred art" that's at the root of "all modern music. He hopes to be able to share what he's found with others, especially because it's the music that helped him get over the rough times in his young life.
"I didn't choose the blues," the teenager says. "The blues chose me."
Creighton Wodarski will perform a special dinner-hour show at 5 p.m. on Saturday, Aug. 4, at PJ's Lager House, 1254 Michigan Ave., Detroit; 313-961-4668; pjslagerhouse.com; free.

Get our top picks for the best events in Detroit every Thursday morning. Sign up for our events newsletter.