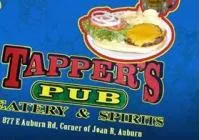 Take John R Road to Auburn - restaurant is located in the Northwest corner strip mall.
Parking: Ample parking in front of restaurant.
Tapper's Pub specializes in fresh appetizers and entrees including steaks and pastas. With affordable prices and a large menu with several sandwiches and salads, the pub is a great choice for lunch. Every menu item, including soups, sauces and dips, is made from scratch.
Tapper's Pub is one of only 18 restaurants in Michigan to feature 4 types of beer from Dragonmead, a local Warren microbrewery. They carry a large selection of beers as well as a list of fine wines.
The restuarant boasts a dark wood interior, rich Mediterranean atmosphere. It seats approximately 100 and offers a separate banquet room for private parties of 50 to 60 guests.