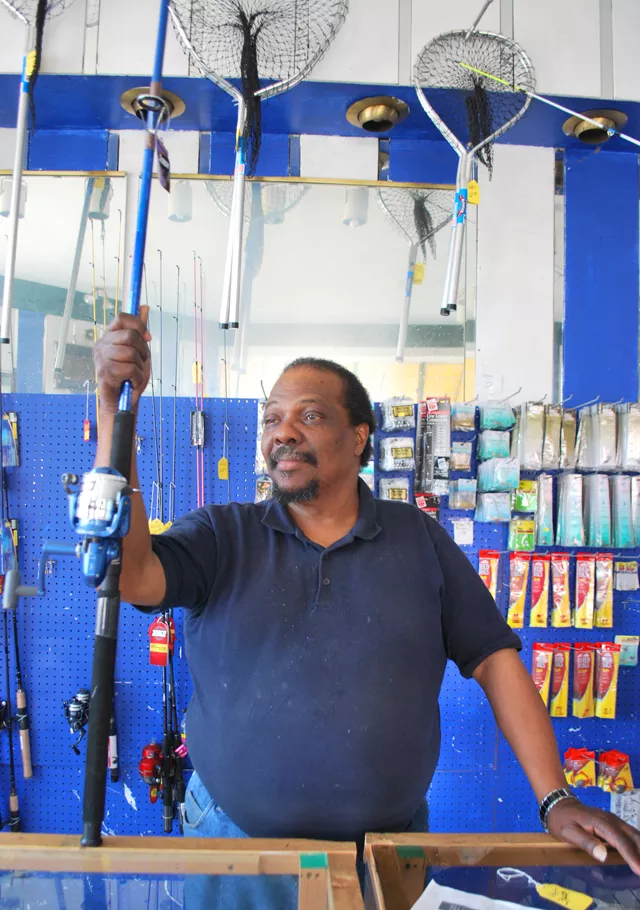 It's a quiet summer afternoon, the sun shines in a soft haze through the shop windows, the traffic outside is sounding a sleepy whoosh, so who could blame the shopkeeper for dozing off in a chair in the middle of the day?
"That'll be $5.70," says a bleary-eyed Michael Freeman to the customer who'd just come in and roused him from his slumber. The purchase was important enough to wake him for — two-dozen worms were urgently needed. The fish in the river are biting today.
Freeman owns Michael T's Bait on the corner of Van Dyke and Jefferson, a place where the pace of the day is languid no matter how busy it gets. He named the shop after himself when he took over two years ago, using his first name and middle initial. "I tell guys the 'T' stands for trouble. I tell women 'T' is for terrific," he says, instead of just saying that it's Tyrone.
He falls asleep in here quite frequently, he admits, often in front of the little TV in the corner with the digital tuner and rabbit ears on top. It's hard to stay awake when the liveliest thing in the room is the crayfish tank.
"I just sit around when it's so slow like this, and I'll nod out," says the 60-year-old in a Southern accent so drawly it makes him seem even drowsier. "The hours will wear you down." He's here from 4 in the morning until 8 at night, just about every single day.
It's usually slow like this, since most customers pop in and out after buying a single thing, and today's no different. Worms. Hooks. Minnows. Worms. Lures. Worms. It's not a high-intensity occupation.
It's slow like this because many of his customers stopped coming around a few years back, when the previous owner got seriously ill and opened the shop less and less frequently. Once a place like this gets a reputation among the riverfront anglers for being closed at crucial times, it's hard for it to recover. 
Then the owner died, and the shop's survival was in question. Freeman had worked here for more than two decades, and it had simply become what he does in life. He was determined to save it. 
But it wouldn't be easy.
From the outside you'd never know it's a bait shop. The only indicators are a couple of hand-painted boards propped against the plain walls outside, announcing "Live Bait." It's located inside a former flower store, and nobody's ever bothered taking the old signage down, so people seeking worms walk into a place whose delicate fabric awnings declare it to be Ashley's Flowers in a feminine script. 
Inside though, there's little doubt. The place smells like the inside of a dead fish. It might be from the tank of minnows that sell as cheap bait, or the crawfish water, or years of fishy customers passing through. Freeman says he can't even smell it anymore.
Before this it was called Dick's Fishing Hole, named after its owner, Dick Brousseau. He lived just up the street in one of those towering old brick apartment high-rises along the river, and would spend his spare time standing on the shore behind it, with a line in the water. He loved fishing, knew fishing and figured he might as well make money off fishing. So he opened a bait shop just down the street from his home, though he never got around to putting his name on the door, or removing the soft awnings that served only to say what this place once was.
Freeman had moved to Detroit from Tennessee, and got a place to live and a security guard job in the same building where Brousseau lived. He never fished until he was in his 30s, and started only because his apartment was right along the river. "I figured, might as well fish," he says. He'd run into Brousseau along the banks, they became friends, and when the security guard job suddenly wasn't his anymore, the old bait salesman offered him work in his bare-bones shop.
After Brousseau got lung cancer, and as the disease wore on him, he began opening the shop later and later in the morning. The anglers needing bait at the first hint of dawn eventually found other shops to give their loyalty to, and the business slowly withered. A couple of years ago, in his mid-70s, Brousseau died.
He passed the business down to Freeman, as he'd promised to do if he ever retired. But a tenant in the building who was entrusted to watch over things while Brousseau was ill instead sold nearly all the store's product at a clearance-price pace and pocketed the money, and the landlord finished the job of killing the shop by throwing away all the cabinets, the fish tanks, even the kitschy plaques and mounted fish that decorated the walls.
That left Freeman with the choice of either giving up, or leasing a gutted room and starting over on his own. But after 20 years of this being his world, he asked himself — is there really a choice?
He started with some wood and glass and fashioned new display cabinets despite having little carpentry experience other than a woodworking class in the seventh grade. He got a new refrigerator to keep the worms cool, bought new tubs and tanks to hold the minnows and crayfish, and made wall stands to house the new rods and reels, to make it a real fishing supply store. He had to make it stand out because the gas station next door also sells night crawlers, as does the liquor store down the street. 
Despite the competition, he gets a steady trickle of anglers throughout the day, who come maybe for the genuine atmosphere and the foul smell that traditionally marks the beginning of a day of fishing, or maybe because no liquor store is going to fix your broken fishing pole, let alone for less than $4, as Freeman does. 
Or maybe they come because of his playful demeanor, made funnier by his syrupy drawl. To the elderly man who comes shuffling in, he says, "How can I help you over there, young man?" To the grandfather who comes in with two grandkids and can't tell the difference between the two kinds of minnows offered here, he barks, "You've been fishing for 200 years and you don't know the difference?" To the man who brags about a huge fish he just caught, but admits it wriggled off his line, "Then you didn't catch him if he got away! No! No! No! No! No! You hooked him. You didn't catch him. There's a difference now!" And he spends 10 minutes merrily berating the man until he admits he never actually caught the fish. 
When Freeman took over he gave himself four years to break even. It's already been two so far, and it still hasn't happened, though he makes enough money to survive the winter months when the store is closed. "Well, sometimes I have to play catch-up with the utility bills," he admits. 
But it's important to keep trying, he says, important enough to work 16-hour days. This is his world, the place where his social life is centered, where people come to share countless fish tales that almost make up for him not having had time to fish since the shop reopened, and since his fishing buddy died. Besides, how many jobs are there where you can doze off under a sunny windowpane and sleep until someone needs you?
"The simple reason is, this is all I've done for 20 years," he says, looking drowsy again. And utterly contented. "This is just something I enjoy. This is really what I want to do." 
Detroitblogger John is John Carlisle, who scours the Motor City for its stories. Send comments to [email protected]