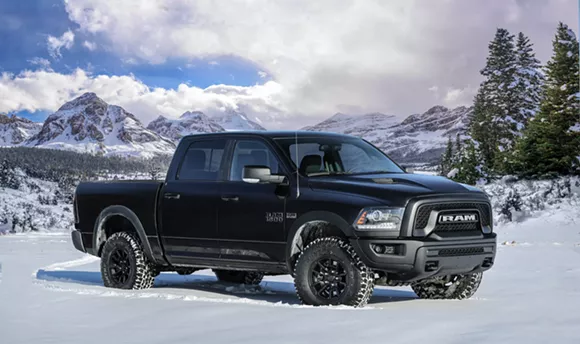 In metro Detroit, it seems like you can't spit without hitting someone who works for the Big Three automakers — or is a family member of someone who works for the Big three, or a supplier of the Big Three, etc. "Out of a job yet? Keep buying foreign!" bumper-stickers are a common sight, and when I used to drive around in a Toyota Tercel I found a "Buy American" flier tucked under my windshield wipers on more than one occasion.
So locally, we love the Big Three here. But what about nationwide?
San Francisco startup Autolist.com
recently released a study
that probed the identity of the Big Three buyer. Its findings found substantially different traits compared to the average vehicle buyer: nationwide, the typical Big Three buyer tends to be older, rural-dwelling, and lower-income than non-Big Three buyers.
According to the study — which surveyed 5,249 vehicle owners nationwide — Big Three vehicle owners tend to be older (+4.7 percent Gen X, +1.6 percent Baby Boomer), live in rural areas (+10.8 percent vs average), and lower income (+5.4 percent who make $40,000 or lower).
Furthermore, Big Three buyers are less willing to buy a hybrid (-6.9 percent) and have less interest in owning an autonomous vehicle (-8.6 percent).
"We're not trying to do any statistical wand-waving to create a story," says Alex Klein, Autolist.com's VP of Data Science. "These are very simple calculations that are different from the average non-Big Three buyer. That's all the data is. There's no magic going on there. It's just a very simple analysis."
He says the results should shed light on President
Donald Trump's ongoing discussions with the Detroit automakers
. "The Big Three is a big topic right now," he says. "Understanding where people's minds are is really important. I think as we saw in (the election), we have a very divided country, with some people thinking the world is in one place, and others thinking it's in a very different place."
While some states are poised to head toward an autonomous vehicle future — including Michigan,
which now has some of the most autonomous vehicle-friendly laws in the country
— Klein says the study shows there might not be a viable market for those vehicles yet. "Sure, I can be sitting here in San Francisco and thinking, 'Three years from now I am going to own my Volkswagen GTI or am I going to be taking an autonomous Uber every day?'" he says. "But in other parts of the country, not only might there not be a need for it or a market driver for it, but people might not even want it ... it's a societal current and narrative that we want to understand and give a voice to it."
Klein says he found the results surprising. "I personally went into the analysis with no real agenda. I'd go as far as saying I was surprised by just the starkness of the themes. How, older, more rural, lower-income — and the numbers are not small, the skew in that direction," he says. "I haven't seen a lot of other data, at least real-time data. And this isn't just new car buyers. We're talking about current vehicle owners. Some of these people are people are driving 2001 Chevy Capris. We also have the person who's driving the 2001 Honda Civic. So we have different demographics across the board, and that's giving us a complete picture of the current state of America than just people who are going on to the new car lot and supporting and voting with their dollars on a given OEM."
The survey encompassed all 50 states, but Klein says there is not yet enough data to find a statistical significance on a state level.
See Autolist.com's study
here
, and read our recent feature story,
"Is Detroit ready to say goodbye to the automobile?"