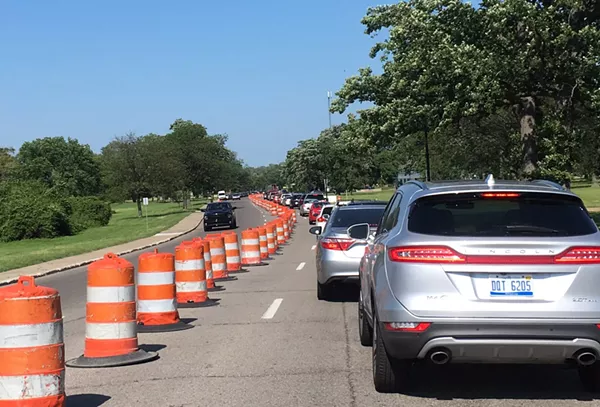 The Michigan Department of Natural Resources will allow the controversial Detroit Grand Prix to remain on Belle Isle through at least 2021.
The state did so even though billionaire race organizer Roger Penske's team failed to address the concerns of a growing number of park users and residents who want the race off the island, or a significantly reduced construction timeline. The contract includes an option to extend through 2023.
However, race organizers did offer to pay a couple hundred thousand dollars more to use the island park. Apparently that's all it takes for the state to pimp out the one-of-a-kind natural and architectural treasure to a billionaire businessman.
Among other concerns, the race turns around 30 percent of usable parkland into a construction zone
for between two and four months each year
. Race organizers will reduce the construction timeline from 67 days to 59 days over the term of the contract. But the new set up and breakdown timeframe is still
longer than most other street races around the world
. During that time, it causes
overcrowding
and
long traffic jams
, turning the island into a vast headache.
Beyond that,
the damage that the race does to the island each year
lasts for months. Large swaths of grass remain dead for two months after the early June race.
The DNR also justifies its decision by pointing to the race's purported benefits, but we've repeatedly pointed out that many of the claims aren't true.
For example, the DNR and race organizers claim Penske's team made $13.7 million in improvements to the island. But there's debate over whether widening roads, installing a new sewer system, and replacing 10 acres of grass with concrete qualify as "improvements" in a park.
The race also claims it generates $58 million in spending. But we spoke with several sports economists who pointed out why that claim
is misleading at best
, and they estimate the race's true economic impact to be somewhere in the $5 million range.
It's worth noting that the head of the DNR is selected by the governor. And as Gov. Rick Snyder's administration has repeatedly proved itself to be pro-business and anti-environment, none of this should come as a surprise. Keep that in mind as the primaries and general election approach.
Stay on top of Detroit news and views. Sign up for our weekly issue newsletter delivered each Wednesday.