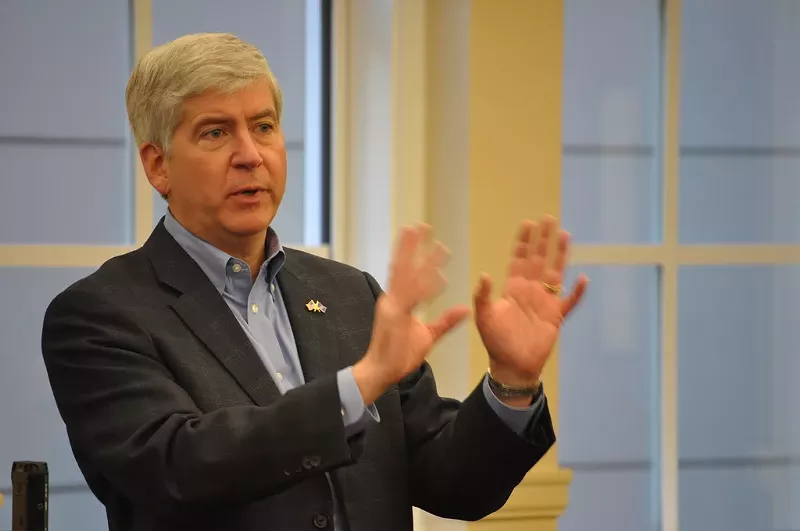 A special election would cost too much. It would leave absentee voters in Ecorse and Wayne confused. It would be unfair… to the candidates.

A lawsuit filed against Gov. Rick Snyder for his failure to schedule a special election to fill the Congressional seat vacated by John Conyers in December sent the state scrambling for excuses during oral arguments in federal court in Detroit on Thursday. The suit filed by an attorney on behalf of residents vying for the empty seat alleges Snyder discriminated against the predominantly black district and seeks preliminary injunctive relief in the form of a special primary election to be held as soon as possible, with a special general election to coincide with the Aug. 7 primary.
"This is the third-poorest district in the country," lawyer Michael Gilmore told Judge Mark Goldsmith. "The president is [proposing] cutting programs that are essential to the people of this district and they have no representation."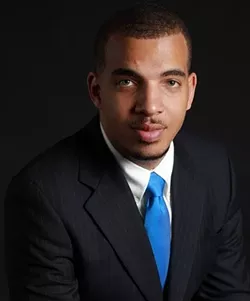 Under Snyder's plan, the seat will remain
vacant for more than a year — about half the length of a full House term, and reportedly the longest vacancy for a House seat in 20 years. His argument for disenfranchising voters in the low-income, minority district is familiar: It's about saving money. A special, standalone primary election would cost $860,000.

"We may be able to get them three months of representation," Assistant Attorney General Heather Meingast says. "Does that result outweigh the cost burden to all the communities of having a special election? I would say it does not."
In addition to cost, Meingast and a senior election law specialist under Secretary of State Ruth Johnson said granting a standalone special election now would blindside elections officials and candidates. The state said it would have been more prudent to hold the special primary and special general on already-set election dates of May 8 or Aug. 7. Asked by Judge Goldsmith why Snyder didn't initially get the ball rolling for May, Meingast said Snyder had not known if any 13th District municipalities would utilize that date when he made the choice not to hold a special election.
Meingast added that the push for a special election came "too late" to set a date that comports with a complex web of election regulations. Gilmore filed suit in late December, but waited until last month to file the motion for a preliminary injunction. The state said it would ideally need at least 90 days to set a special primary.
"Is it technically possible [to hold a special election], yes," she said. "Legally, no, because they would be unable to meet statutory deadlines."
Those deadlines include a requirement that ballots are sent to overseas voters 45 days before an election.
Goldsmith pressed Meingast and the elections specialist on how the state had handled similar situations in the past. It emerged that the state is able to hold special elections in as narrow a window as 60 days; it did so in 2012 to fill Thad McCotter's seat in the white, affluent 11th Congressional District. But the state said the swift response was warranted in that case because the vacancy occurred over the summer, and Snyder wanted to hold a special primary in time for the November general election.
Snyder, as it turns out, has also in the past promptly set a special election to fill a vacancy that occurred at about the same time in an election cycle that Conyers' had. In the case of former state Sen. John Gleason, who left his Genesee County district in January 2013, a March special primary was set with a special general to take place in May.
But election law specialist Melissa Malerman called the situation an aberration.
"That was lambasted," she said. "The decision was roundly criticized because it was at a significant cost to the local [elections office] there."
Since then, Malerman said that in the event of political vacancies, Snyder has scheduled special elections to coincide with elections already on the calendar.
In her sworn testimony, she outlined a number of additional difficulties she said would go along with holding a special election. The 13th Congressional District cities of Ecorse and Wayne will be holding elections May 8, and if a special election for Conyers' seat were held on any other Tuesday that month, voters in possession of two absentee ballots might get confused. Voters could also be confused by a party primary ballot with a special general election item tacked on, she said. Under Gilmore's plan, the special general election would coincide with the Aug. 7 primary.
"They may not understand that their party selection does not constrain them in the general election vote," Malerman said.
Detroit resident and Wayne County precinct delegate Tenay Hankins, who watched the arguments from a courtroom pew, said she felt the state was making lame excuses.
"It was nice to see under oath how little we're thought of as citizens," she said. "It was an insult, and it was disrespectful … it's obvious we're not supposed to care [about our right to vote]."

The 13th Congressional District Democratic Party Organization reportedly supports Snyder's effort to hold the elections on the regular dates. Organization chair Jonathan Kinloch told The Associated Press in December that the move would avoid the low turnouts associated with special elections and allow "as many voters as possible to participate in the filling of the seat."

In the event of a special election, the winner serves only the remainder of the previous office holder's term, meaning that 13th District residents would still be able to vote for a Congressional representative in November, as is typical.


Judge Goldsmith gave the state and Gilmore until next week to present their final arguments and said a ruling could come as early as Wednesday afternoon.
Outside the downtown courthouse, Gilmore said he was confident the judge would rule in his favor.
"Just because somebody doesn't want to work something doesn't mean it can't be worked," he said. "They've done it before multiple times, so I think at the end of the day we will have a special election."
Stay on top of Detroit news and views. Sign up for our weekly issue newsletter delivered each Wednesday.