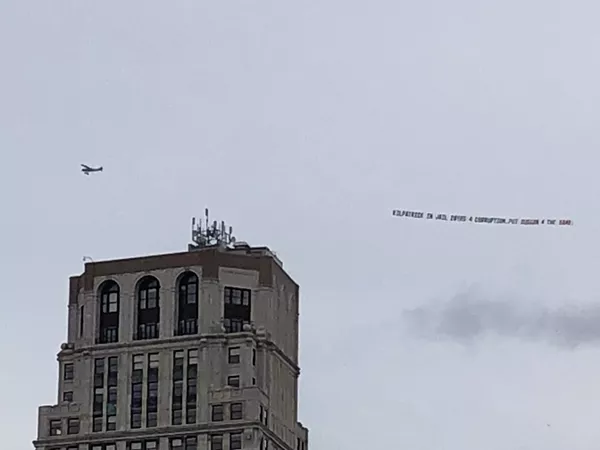 The five-month smear campaign against Mayor Mike Duggan continued Thursday morning with two airplanes towing anti-Duggan banners over downtown Detroit.
One of them read, "Duggan spent $1.5 million of city tax $$ on his mistress 4 sex?!"
Another referenced former Mayor Kwame Kilpatrick's 28-year prison sentence and suggested, "Put Duggan 4 the same."
The man behind the campaign, businessman Robert Carmack, plans to ask a judge Thursday to dismiss four felony charges that allege he sold property in Detroit that wasn't his.
Carmack has claimed the charges were filed in retaliation for airing surveillance footage of the mayor having an alleged affair with Dr. Sonia Hassan —
a claim dismissed by a judge
as "a conspiracy theory."
The smear campaign began in November, when Carmack drove around Detroit during rush hour,
broadcasting surveillance videos
affixed to the side of a truck.
The videos, which were captured by private investigators hired by Carmack, showed the mayor driving to Hassan's house in Oakland County. Earlier this month, the
Free Press
published a detailed article
that revealed Hassan received $358,000 in city grants and "benefited from a fundraising campaign that a top city official spearheaded at the mayor's direction."
The city responded by launching an internal investigation.
On at least two other occasions, Carmack paid for airplanes to fly over downtown with messages designed to agitate the mayor. On Opening Day earlier this month, one airplane carried a message that misspelled Hassan's name: "Dr Hussan marry me? Love Mayor Duggan. Oh I forgot I'm married."
During an unrelated press conference Wednesday, Duggan was dogged with questions by the media about Hassan and whether it was appropriate for him to use city employees to raise money for the doctor's charitable program, Make Your Date, which focuses on reducing the infant mortality rate. Duggan said he did nothing wrong but evaded most questions, adding that he doesn't talk about his "personal life."
Carmack's beef with the mayor goes back at least two years, when the city demolished a structure on property that the businessman said he owned on Michigan Avenue. Duggan's administration countered that the property was acquired by the city after it was foreclosed.
When asked about Thursday's banner that claimed Duggan spent $1.5 million in taxes "on his mistress 4 sex," the mayor's spokesman John Roach said he has "no idea" what Carmack is referring to.
While some people have dismissed Carmack as a disgruntled businessman with a grudge, he is a star witness in the FBI case against Councilmember Gabe Leland, who was indicted in October on bribery charges. Leland is accused of demanding bribe payments from Carmack in exchange for helping him with his property disputes.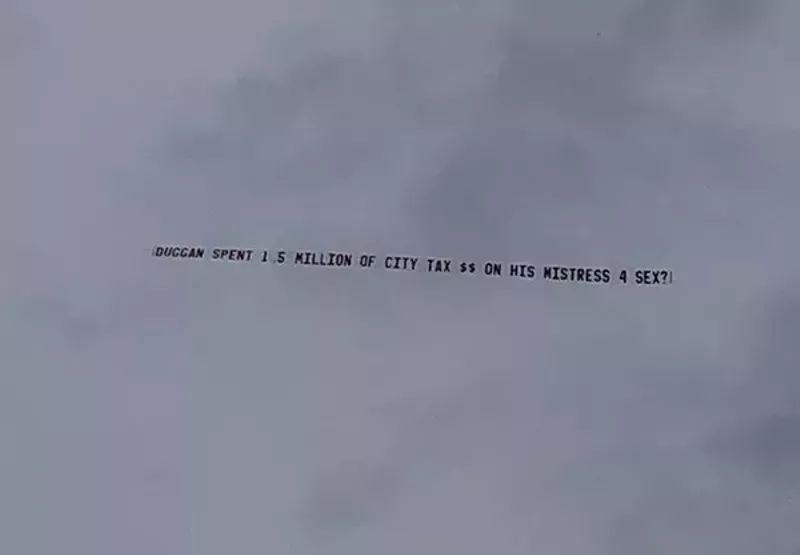 Stay on top of Detroit news and views. Sign up for our weekly issue newsletter delivered each Wednesday.