We're all excited for Garbage to be back in Detroit Saturday, July 16 at the Fillmore. But it's more than Garbage that has pushed us into ecstatic glee for this show, it's also for the opener, Kristin Kontrol.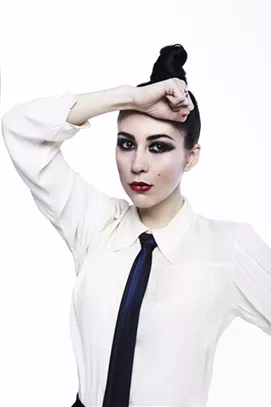 You may not recognize the name Kristin Kontrol, but you may know her from her previous incarnation as Dee Dee in the irresistibly downbeat band, Dum Dum Girls. Wanting to go beyond some of the trappings of Dum Dum Girls, Kristin Kontrol is a fresh start with a retro-sound that brings to mind some of the best ʻ80s and ʻ90s pop music, a mesh of Human League, Kate Bush and even a little early Madonna. With the release of X-Communicate, Kristin Kontrol has honed her vision into a cohesive platter of bold new wave melodies. Here's an exchange I had with Kristin on her introductions to music, playing as Kristin Kontrol, and being in Detroit.

Metro Times: What was the first album you remember buying with your own money?

Kristin Kontrol: It's a little fuzzy. A friend gave me N.K.O.T.B. for my
sixth birthday. The next year my mom bought me Pocket Rocker mini cassingles of Tiffany and Debbie Gibson. Then my cool uncle gave me Nirvana's Nevermind. Maybe it was TLC's first album? I had an absurdly low allowance, like 50 cents a week, so I didn't have much cash flow. I used to check out music from the library, though I can only recall later discoveries like Depeche Mode and Eurythmics. It might have been Hole's Live Through This.

MT: The 80's and 90's were a great time for music, especially post punk and new wave. It was a time where a masculine lead in a band didn't seem like a requirement. Was this part of what drew you in to that music?

Kontrol: I was always drawn to strong women in music, but my understanding of that era was disjointed during my youth. I loved the big commercial bands like Hole and Garbage (my first concert). Then I found The Cure which was about as opposite you could get to (non-Nirvana) grunge bravado. Then came Sonic Youth (viva Kim Gordon). It wasn't until later that I found Siouxsie, Blondie, X-Ray Spex, Lizzy Mercier Descloux, The Raincoats, etc., and that was all via my introduction to The Slits. I didn't need any male role models aside from Robert Smith or Morrissey.


MT: Starting fresh again as Kristin Kontrol, do you feel you're back at page 1 with no backstory, or is this more of a book 2 in an ongoing series?
Kontrol: I wouldn't be working as Kristin Kontrol if not for everything that led up to it. It's a continuation of the path I've always been on. It just became necessary to find a new vehicle because I'd outgrown Dum Dum Girls.

MT: I know a lot of artists that have adopted a different persona to release an EP that represents another side of them they've wanted to express, but from what I've read about Kristin Kontrol, maybe this more of the reverse...

Kontrol: Dee Dee served me well. She enabled me to take a risk and pursue my own music on my own terms. She offered a shot of attitude and confidence that I didn't actually feel yet. But the role started to feel one dimensional just as I recognized that DDG didn't lend itself to evolution or progression. It took a lot of time and garnered experience to finally arrive at a place of self-acceptance, musically and otherwise.

MT: When I saw Dum Dum Girls a couple years back your live show struck me a real group effort. What are the differences to what you are bringing on stage with Kristin Kontrol compared to Dum Dum Girls?

Kontrol: The project necessitated a completely different kind of band and setup. There's definitely still a group effort (how could there not be?), but it's in support of me. I get to focus all my energy into my personal performance. I spent a full year writing and recording these songs, and now I've tasked myself with taking them to a new level when we play live. It's been challenging to prepare, but now I experience a kind of joy I've never known before.


MT: I've always appreciated the fashion and visual aspect you bring to your music. How important is the way you present yourself visually compared to musically?

Kontrol: They go hand in hand as far as I'm concerned.

MT: I have been listening to your Spotify Playlist and you are very well versed in obscure ʻ80s, ʻ90s bands, how did you get exposure to these bands?

Kontrol: Usually via friends or just happy accidents while chasing something else on the internet. Music has never been something to covet for me.

MT: I'm a big fan of Bret Easton Ellis and while you worked with him as Dum Dum Girls, I see how Kristin Kontrol fits into his aesthetics as well. Are you in touch with Bret and can we expect any collaboration?

Kontrol: [laughs] God only knows.

MT: By the way, The Rules of Attraction is my favorite Bret Easton Ellis novel – what is yours?

Kontrol: Less Than Zero

MT: You have quite a large following of fans in Detroit, do you have any thoughts on Detroit you'd like to share?

Kontrol: I've almost moved to Detroit twice in the past few years. I haven't really spent enough time in the city outside shows though. This time through I made a point to plan two extra days here to run around. Please tell me where to go!

Check out Kontrol sporting the disco-black strat in this Prince tribute with Alan Palomo of Neon Indian.


Also, check out her "What's in my Bag?" to get an even better sense of what she's into.