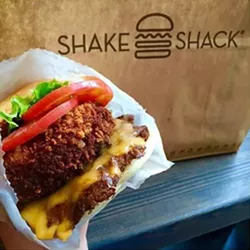 A new Shake Shack location is in the works for 888 W. Big Beaver Road in Troy, according to
The Detroit News.
The fast food restaurant's downtown Detroit location opened to a great deal of fanfare in February, and lines out its doors still aren't uncommon.
Shake Shack fancies itself a "roadside burger stand" and heavily markets its 100-percent all-natural Angus burgers, hormone-free chicken, crinkle cut fries, and "concretes" made with flavoring from local produces like Zingerman's.
It's expected to open sometime this year.