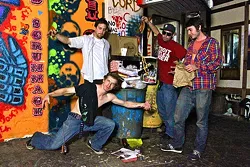 Bear with us here because this can get a little confusing. Lord Scrummage is a fantastically weird electro-art-noise band that makes you feel like you're tripping your tits off even if you're 100 percent clean and sober. Scrummage is a collective of like-minded musicians, artists, filmmakers and whatever else. Lord Scrummage is a part of Scrummage, and so this weekend Lord will be partially hosting as well as performing at Scrummage Fest, which takes place at three venues across the city over two days and nights.
Lord Scrummage's Alex Lauer says that the event hasn't happened every single year, but they've been doing Scrummage Fest for close to 10 years now. "This is actually only the second one taking place in Detroit," he says. "Previously it has been in Birmingham and Southfield — the suburbs."
Lauer says that Lord Scrummage has been together for four years, but the Scrummage collective has been in existence for much longer. "The story goes back to Conor Edwards and Ben Christenson," he says. "Conor is in Lord Scrummage and Ben performs as Dakota Bones. They used to be neighbors. They formed a band in middle school and it was named Scrummage. Down the line, it became the name of the collective for a group of people who made art and music together. We've had venues with Scrummage in the name, like Scrummage University and a bunch of others. It's a collective of people, it's a place where shows happen, we host shows, and it's a band too. Oh, and Lord Scrummage is also a robot from the future who has come back to save everyone. We only know so much, like everyone else."
OK then. The festival starts on Friday night at PJ's Lager House. From 11 a.m. on Saturday, it will be at the Imagination Station, then on Saturday night it moves to the Leland Hotel Ballroom, connected to City Club. Lauer says that the aim is to bring a bunch of different people together from different scenes, just like any other festival. "We just put our own take on it," he says. "We have a showcase of film, art, music and installations"
"The first, Lager House portion of it is going to be the focus night, for some of the Scrummagers who focus on video and moving pictures," Lauer continues. "There will be standup comedy and maybe a little bit of performance art and then afterwards the bands are playing. It should be very cool."
Yes, it should, although the Saturday daytime part of the festival sounds particularly spectacular. "Saturday, the event starts at 11 a.m., with the party lunch," Lauer says. "That will be some independent foodies who make really good food. For some of them, it's how they make a living, some of them it's partially how they make a living, some of them are just very passionate. You'll be able to order food from these particular groups of people. Music will start into that. It's going to be totally crazy. The Imagination Station is two burned-down houses in this big field next to the train station. It's going to be in the heart of all that.
"Imagination Station is an up-and-coming place that might not seem like much now because it's just blown-out ruins, but there's a group of people who own and manage it who are very passionate about it and they are going to turn it into something cool. It's something to look out for. During the early part of Saturday, Tour de Troit, the bike race, starts and ends at Roosevelt Park, which is next to Scrummage Fest. About 5,000 people are in that race, so it's going to be totally crazy over there."
The final part, at the Leland Ballroom, should be very interesting because the adjoining City Club will be hosting its regular Saturday club night, fetish wear and all. But hey, the City Clubbers might be glad to hear this:
"There will a focus on honey this year," says Lauer. "Every year, we have a condiment theme that we base some music and video around. It's on a 13-year cycle and we're on the fourth year — honey."
Scrummage Fest 2012:
Friday Sept. 14, starts 7 p.m., PJ's Lager House. Focus Night Variety Show, Freddy Todd, Ill.So.Naj, Breezee One, Dread Wings, Brain Rottar, Lord Scrummage, and More.
Saturday, Sept.15, starts 11 a.m., the Imagination Station. Scrummage 1st annual Party Lunch: Space Band, Ferndale Acid Scene, Jade Lathan, Our Brother The Native, Bad Indians, Phantom Cats, Gentleman's Guild, Brian Burke, Trophies, Jaws That Bite, K9 Sniffies, Horatio Clam, Lenny Stoofy and The Garbage Gang, Sheefy Mcfly, Sheefy and the Delorean, Roach Clip, Anonymous, Glory Fires, Pink Lightning, Drummer B, Isles of ESP, Slufter, DJ Laura Deutch.
Official Scrummage Fest Afterparty, starts 10 p.m. at the Leland Hotel Ballroom. Terrible Twos, Dakota Bones, Aphasiacs, Solid Liquid, Siobhan, DJ Justin Carver, Help, Jeff Risk.
Brett Callwood's favorite condiment may or may not be honey. Send your best guess and other comments to [email protected]