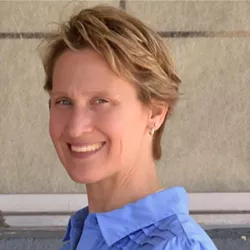 Royal Oak City Commissioner Kim Gibbs attended "Operation Gridlock," Wednesday's
shitshow of a protest
in Lansing where people rebelled against the "tyranny" of Gov. Gretchen Whitmer's
expanded coronavirus stay-at-home order
by blocking traffic, brandishing guns, and waving Confederate flags. Or something.
Operation Gridlock organizers told protesters to stay in their cars to adhere to the social distancing guidelines. But Gibbs was spotted walking around the Michigan Capitol building among protesters in the background of a
WJBK-Fox 2 news report
.
When asked, Gibbs
told the Royal Oak Tribune
that she was not participating in the protest but was merely there to observe it. Yet Gibbs, a Republican who is running for the Oakland County Board of Commissioners 19th commission primary in August, said she supported the protest.
"I am extremely concerned about Michigan's small business owners," she told the
Tribune
.
Gibbs said she believed there was no risk of the protesters spreading the virus.
"In my eyes, the scare on the coronavirus is over," Gibbs told the
Tribune
. "I'm not a doctor, but my personal belief is that the people who got it, or are going to get it, have already gotten it, so let's get back to work."
She also said she believed the risk of getting the virus while walking around outside was low. "When you are out in the air, the air disperses it," she claimed. "I didn't feel in danger."
After the protest, Democratic Gov. Gretchen Whitmer said she was "disappointed" with the protesters, and said that
it was highly possible they spread the virus
. Many people could be seen not wearing masks, standing closer than six feet apart, and touching each other. Whitmer even said she saw someone passing out candy to children with bare hands.
Oakland County Board of Commissioners Chairman Dave Woodward told the
Tribune
that he thought Gibbs was "irresponsible, reckless, and a hypocrite."
"One moment she is putting up a lawn sign supporting Beaumont nurses and staff on the front lines, and the next she turns her back on them and ignores social distancing and the safety protocols designed to protect them and all of us," Woodward said. "We should expect more of our local leaders."
On Wednesday, Michigan reported
1,366 new coronavirus infections and 153 new deaths
, bringing the state totals to more than 27,000 and nearly 2,000, respectively. Michigan has one of the highest number of coronavirus cases in the country.
Stay on top of Detroit news and views. Sign up for our weekly issue newsletter delivered each Wednesday.