(Find more photos of food and The Corner here.)

Geoff Kretchmer, co-owner of Detroit Axe and the Corner, told my colleague Tom Perkins that his new place, open since December, is getting a ton of attention because of the ax-throwing. But, Kretchmer said, they put a lot of effort and thought into the food and they don't want people to think it's bowling alley food. They want people to go there for the food first.
Jane's rule: If you don't want people to talk about the ax-throwing in your restaurant, don't have ax-throwing in your restaurant.
I prepared for my trip to the Axe by listening to a Stuff You Should Know episode about knife-throwing. It wasn't enough. Apparently there's a guy named Throwdini that you've got to see. I was horrible, though not as bad as my teammate, who never stuck it once.
First your ax-master gives a serious safety talk. Then the teams start tossing, with a lot of cheering, groaning, celebrating, and general encouragement. It's harder or easier than it looks, depending on how hard you think it looks. In the random match-up I was part of as a "walk-in," folks were sweet as could be and not outwardly disheartened when their axes clattered to the floor.
The venue has just one alcohol rule, "No Shots Upstairs," which is where the throwing takes place. "They say that at the gun range, too," remarked a bystander.
But if we're to take Kretchmer at his word, what about that food? The servers can trot it upstairs to the throwing alleys, but many customers stay below in the glassy restaurant now called the Corner Grill, Bar and Game Room (formerly it was Kretchmer's and partner Brian Siegel's Local Kitchen).
There they find 1,000 different board games and card games, such as Santorini, Jenga, and Connect 4. Games sommelier Nykola Stewart is on hand to help gamesters choose or learn a new game. Apparently there are no alcohol restrictions to prevent mayhem when your partner trumps your ace.
My companion called the cuisine "pretty much bar food," but I can't agree. (How often does he eat in a bar? And really, the category "bar food" has expanded beyond recognition.) No jalapeño poppers or nachos, at any rate, though there are of course burgers and fries.
Rather, chef Travis Waynick is reaching further, past the Corner Burger with fried egg and a roasted tomato slice, to kale salad and cauliflower steak. The venerable French dip shares space with rainbow trout. Kretchmer says they want it all to be "accessible."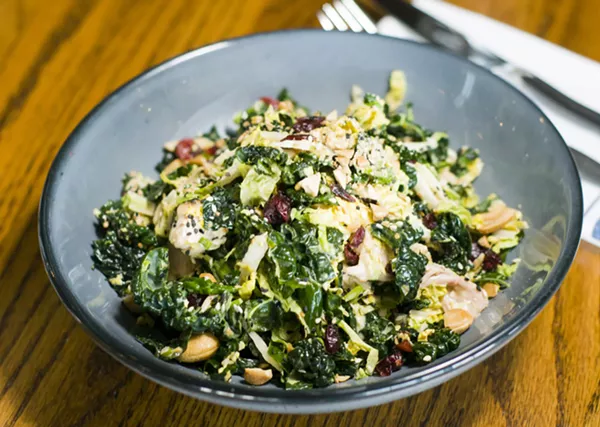 Chef Waynick is a master of cabbage. That was my conclusion after trying both a buttermilk-battered chicken sandwich on Zingerman's challah and a smoked brisket slider. Each was embellished with purple cabbage slaw, creating excellent texture and temperature contrasts. They come with industrial-weight toothpicks to hold the towering concoctions together, just barely. The chicken is battery and crunchy, the 14-hour brisket as rich as Croesus (though I saw no sign of the advertised "house cheese whiz," surely an oxymoron). The only amendment I would make is to figure out how to semi-melt the slice of provolone that gilds the lily.

A French dip sandwich was more ordinary, with ribeye, provolone, and a smidge of horseradish on a Zingerman's baguette, along with a generous little pot of sweetish beef juice. The menu composer, to his or her credit, did not write, "with au jus."
A good-sized serving of trout comes with smashed fingerlings and a lovely, juicy, roasted lemon. Shrimp were a bit too gussied up for me, with spiced mayonnaise and a separate soy yuzu sauce. There were a lot of them; they, along with the sliders, mac and cheese, a cornbread skillet, and fries, are offered as "shares" and are a good deal, volume-wise.
We liked the tangy and cheesy house salad, which was plenty for two in the small size. Garbanzos, green beans, and corn are the healthy parts, and goat cheese plays nicely with cilantro and mint. Other salads, at $13 and $15, are loaded with proteins, nuts, and fruits, and qualify as mains.
Charred green beans were not charred enough for my taste, though well-dressed with lemon and butter.
Special touch: Desserts are served hot out of the oven or boiling oil. A bag of mini-doughnuts was fresh and scrumptious, with the fat-sweet ratio leaning toward fat. A great big brownie was served in a sizzling skillet.
For drinks, the Corner has four cocktails, one of which, the Yahtzee, contains a Chinese rhubarb liqueur, so I ordered it. It didn't taste like American rhubarb, but it was refreshing and potent at 32 percent alcohol. Beers, mostly from Michigan, range from an astonishing $2.25 Blatz (at the Axe) to an $11 can of M43 IPA from Old Nation near Lansing.