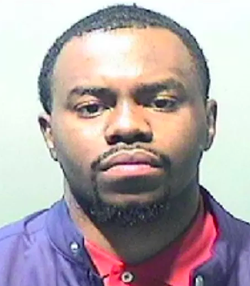 The Detroit Police Department is facing yet another allegation that one of its officers acted inappropriately. This time, a two-year veteran of the department has been charged with several felonies for allegedly assaulting his girlfriend in Greektown and pulling a gun on innocent bystanders who tried to help.
Officer Willie Fortner is 26 years old and works at the department's fifth precinct, which covers a portion of the city's far east side. He's currently suspended as a result of the weekend incident, and Police Chief James Craig says he plans to request that suspension be without pay.
As is typical with such incidents, Craig called a news conference after the charges came to light and attempted to put a positive spin on things.
"When we look at the number of officers that are charged with allegations of criminality ... typically it's off-duty conduct, and then when you take it a step further, most of the time it's conduct involving alcohol," Craig said. "Sometimes, officers have made bad decisions not reflective of the entire police department."
Craig also championed DPD officers for arresting one of their own and handling the investigation as normal.
Earlier this month, a longtime DPD officer who has been involved in several shootings, one of them fatal, was charged after he was found possibly
drunk and carrying numerous weapons
at the scene of a car crash in which he was not involved. Officer Jerold Blanding was off duty and on restricted status with the department at the time of the incident. He was not permitted to be carrying a gun. The restrictions stemmed from his
fatal shooting of a teenager last year
, though Blanding had already been cleared of wrongdoing in that case.
Fortner was arraigned Monday on a $15,000 bond. He faces two counts of felonious assault, two counts of felony firearm, and one count of misdemeanor domestic violence.
The Detroit Police Department has been plagued by allegations of wrongdoing or insensitivity on the part of its officers and in one case, a leader, in recent weeks. We've provided a sampling of stories chronicling those allegations below.