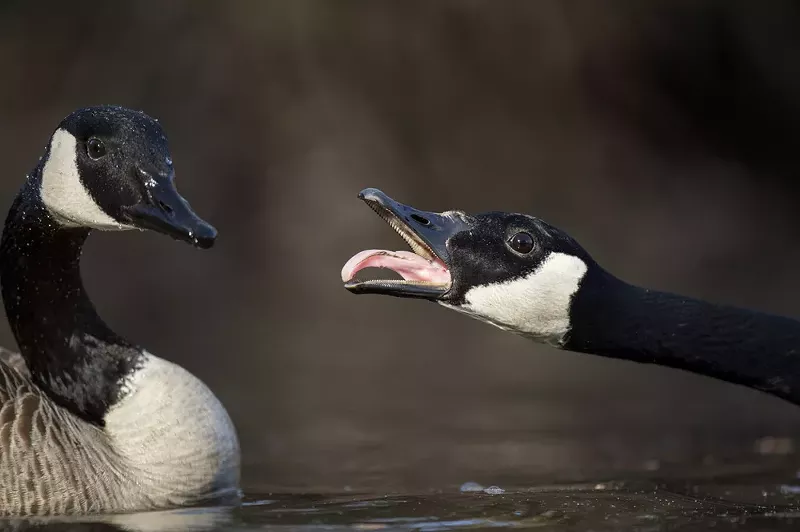 A male goose attacked an Eastern Michigan University student on the north end of campus on Tuesday.
Security footage from the university shows a man walking on the sidewalk near a campus parking lot when a goose flew towards the man and attacked him with its beak. After the man ran away, the goose pursued him and attacked him again.
The EMU police department shared the footage of the attack on their Facebook page.
To address safety concerns, the university communications department sent an email to students late Tuesday afternoon with information on how to handle interactions with geese.
Canada Geese are not shy about building nests in urban areas, especially near watery environments, and they will aggressively defend their nest and any young during breeding season.

Some tips to follow:

• You should stay at least 30 feet away from geese at all times. If you find yourself less than 30 feet away, try increasing the space between you and them or taking a wider approach to your destination.

• When geese feel threatened, they will typically charge humans from behind, striking them with their wing or beak.

• A goose that is likely to attack will begin with being noisy and making hissing noises. The goose will probably also extend its wings to help it appear more fearsome.

• Remember that it is always safer to avoid confrontation than to provoke it. The safest action you can perform is to increase your distance from the geese.

• Use a different entrance or sidewalk than you commonly use if you notice geese in the vicinity.

• Do not stare down the goose, but be sure to know where it is. Do not take selfies with a hissing goose.

• Do not turn your back; face the goose as you slowly walk away to reduce the threat of attack.
Canada geese typically nest during March and April, according to the Michigan Department of Natural Resources. Male geese are at their most aggressive during this period to protect eggs from predators.
Eastern Michigan University is located near the Huron River. The university's proximity to water makes it an attractive nesting ground for Canada geese.
Angela Zielinski is an editorial intern at Metro Times.

Stay on top of Detroit news and views. Sign up for our weekly issue newsletter delivered each Wednesday.